You are in the middle of your work and suddenly your USB keyboard stops working- there's nothing more annoying than this. But well, we've got your back! We have come up with methods on how to fix USB keyboard not working in Windows 10. Take a look!
Methods of Fixing USB Keyboard not working in Windows 10
No matter you see the keyboard not working in Search Bar Windows 10 or your Google Doc; we can always fix it at home! How? Let's learn about it!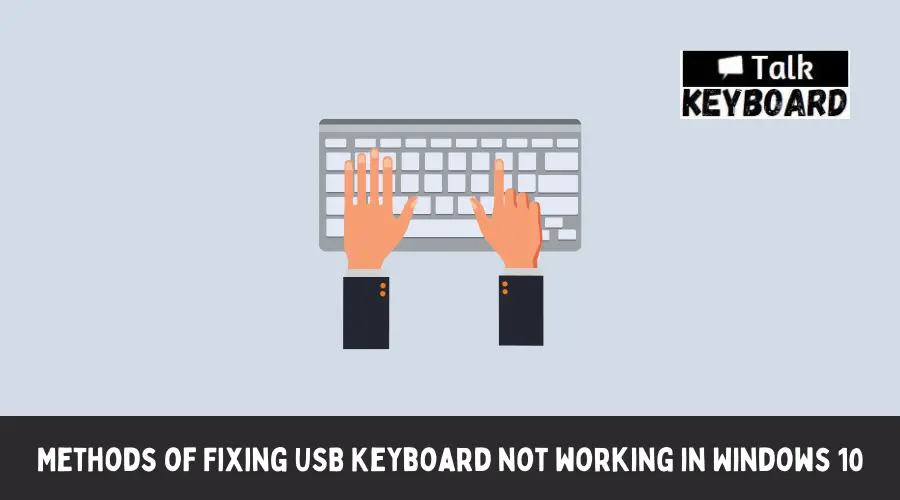 Method 1: Disconnection and Reconnection
The first thing that should come to your mind when it comes to fixing a USB keyboard that's not working in Windows 10 is to restart the computer. Well, yes, we are recommending the same. But we also recommend restarting the USB Keyboard too!
As the keyboard is not working, it can be a temporary glitch in the computer. However, it can also be a temporary glitch of your USB keyboard too! So, let's complete two jobs at once.
Disconnect the USB keyboard and restart the computer or laptop. Then again, after the computer goes through the reboot process, you have to plug in the keyboard once again! This solves almost all the petty issues.
Method 2: Disable the Filter Keys
One of the very common reasons behind your USB keyboard not working in Windows 10 is the filter keys. At times, unintentionally, the filter keys get enabled. It can cause you keyboard troubles. Let's learn how to disable the filter keys.
To disable the filter keys, firstly, you have to get your hands on the Start button of your desktop. Go through the Start button and take your cursor there. Right-click on that button and then, you will get to see the Settings icon. All you need is to click on this.
The Windows Settings will be on your screen by now. Here, you will get three different options. From them, you have to pick up the first one which is Ease of Access. Click on it and it will take you to the next screen.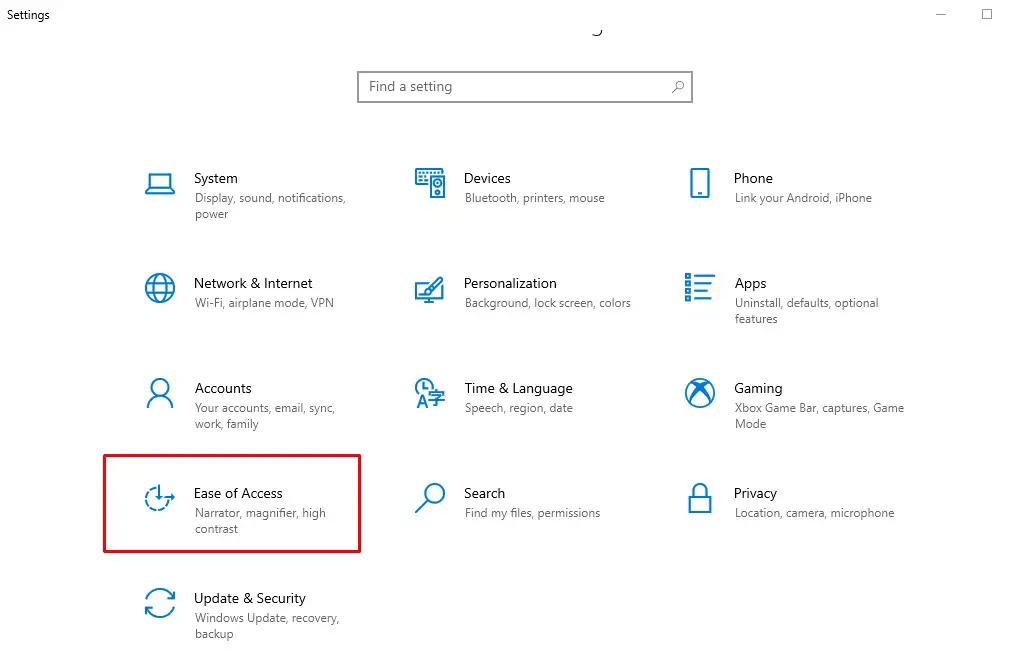 In the new tab, you will see two options in the left pane- Keyboard and Mouse. You have to click on Keyboard first. And now, you will notice Filter Keys written below Keyboard on your screen. Below the Filter Keys option, there is a toggle added. Switch the toggle off to turn off the filter keys and check the keyboard if it's working or not!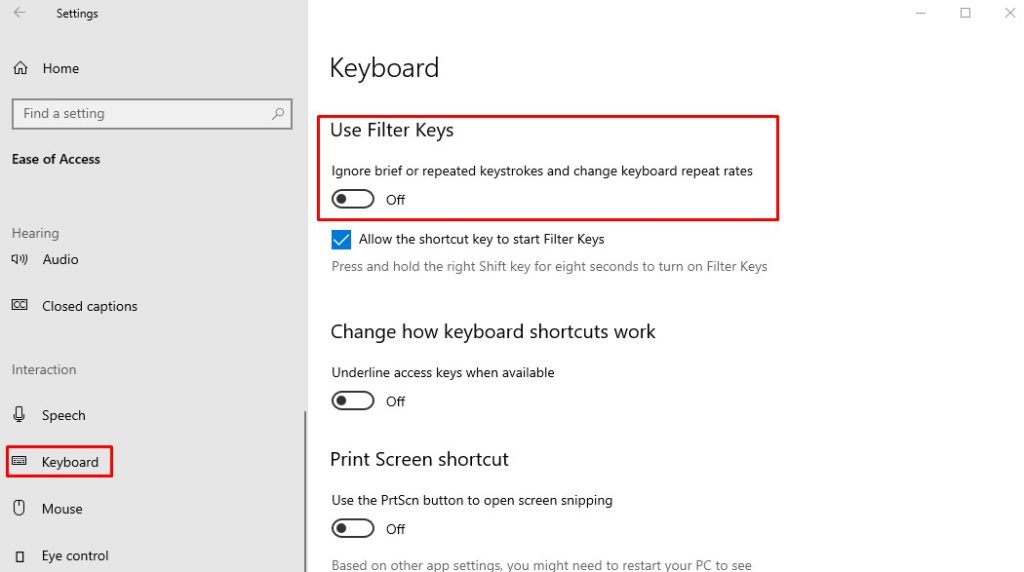 Method 3: Keyboard Driver Update
In some cases, the USB Keyboard driver Windows 10 can be outdated or can be corrupted or damaged. In this case, a keyboard driver update can help you a lot. Here's a way to update the keyboard driver both manually and automatically.
Keyboard Driver Update Manually
Here's how you can update the driver manually. Don't forget to update the right driver for your USB keyboard.
First of all, you have to go to the Device Manager of your computer. Once you are in, you can simply check the Device Manager screen and search for the Keyboard Device.
In the list, there will be several options available. Once you find Keyboard Device, click on it and a drop-down menu will appear before you.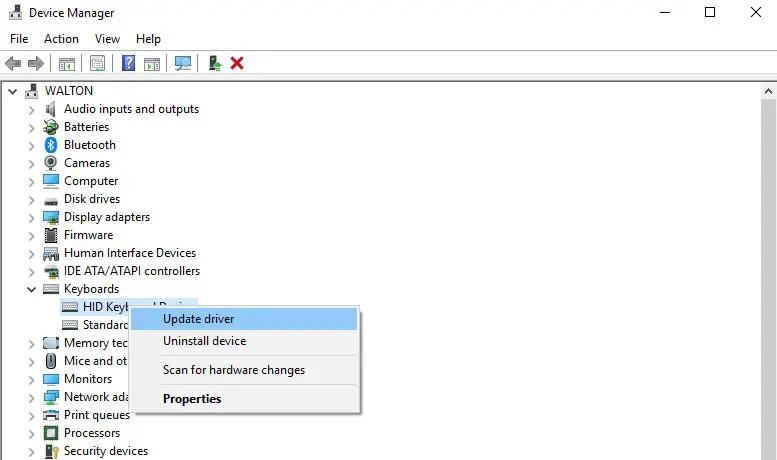 From the menu, you have to select Update Driver, and you are done! The computer will update the keyboard driver for you. Don't forget to restart the computer to save the changes.
Keyboard Driver Update Automatically
A comparative easy way to update the driver is to go for automatic update. Manually updating can be troublesome because in cases, you might update the wrong driver. Also, finding the right driver for your UBS keyboard or mouse can be a lengthy process.
Go for Driver Easy if you want to settle for an automatic update. This is a free app and also has a premium version available.
For this, firstly, you have to download Driver Easy from the official site and then install it.
Once you have installed it, open Driver easy and you will see a green option called Scan Now. It will scan your computer and will find out the problems with it.
After it is done scanning, you will find an option called Update. You can search for the USB Keyboard and click on Update to update the driver. It will automatically update and install the driver.
Also, there is an option called Update All. All the drivers that require updates will be shown there and by clicking Update All, you can update all of them together. However, keep in mind that it will require the Pro Version.
How to Fix USB Device Not Recognized in Windows 10
Wrap Up
We have gone through all the methods of fixing the USB keyboard. So, now, if your USB keyboard stops working, you don't need to worry about it at all! Check these methods and work on them. One of the methods will surely work for you!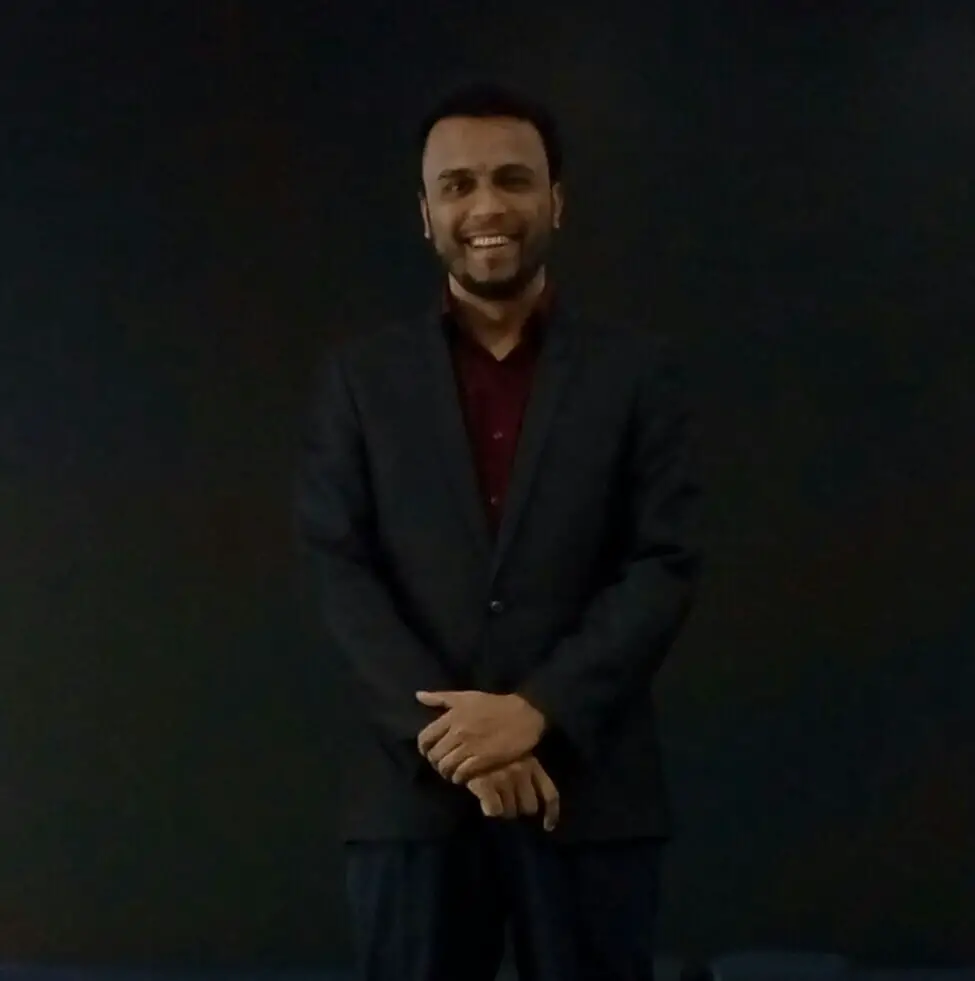 I am a regular user of computer keyboards. For using keyboard face different kinds of problems and also solve it very easily. I love sharing knowledge about keyboards.