Gamers, developers, and typists prefer prebuilt mechanical keyboards as they provide an optimal typing experience. These keyboards are ready to go out of the box, and assembly is unnecessary. So, can I buy any premade mechanical keyboards? The straightforward answer is NO as all of them are not built equally.
The best prebuilt mechanical keyboard has proper switches and a sleek and professional look that you will enjoy using daily. More importantly, they require less force to type, can be customized as per your needs, and can even be programmed.
I extensively reviewed this guide's top-notch pre-made mechanical keywords according to their quality, performance, and reliability.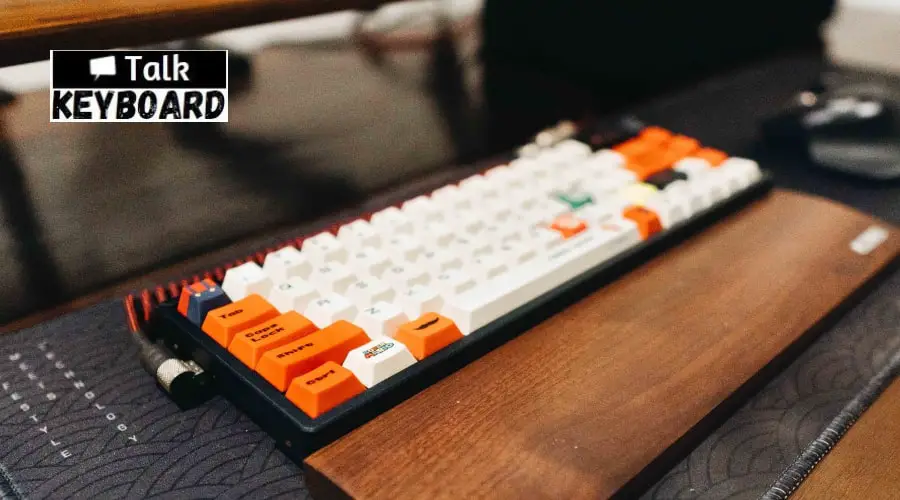 Why Use a Prebuilt Mechanical Keyboard?
Do you already have a prebuilt mechanical keyboard at your home or office? Are you a prebuilt mechanical keyboard enthusiast? Then it is unnecessary to convince you why you should use these keyboard types. But if you want to buy a new keyboard, here I shed some light on why you need a prebuilt mechanical keyboard.
Providing amazing typing performance is a promise of premium mechanical keyboards. Excellent framing, PCB boards, efficient functionality, switches, LED lighting, etc., are a few exclusive features of prebuilt mechanical keyboards, making them superior.
They are absolutely comfortable. So, if you are typing daily for office or homework, these will be great. You will surely enjoy typing with them. At the same time, typing becomes comfortable on the wrist and fingers of their exclusive design. Also, they help improve productivity.
You will also love to know that they are incredibly silent. As a result, you will not feel embarrassed using them in a library or quiet coffee shop.  
05 Best Prebuilt Mechanical Keyboard Reviews 2023
Mechanical keyboards are loved by gamers and typists alike for their tactile feel and durability. Here are the best-prebuilt options.

The Glorious Modular Mechanical Gaming Keyboard is a full-size device featuring different switches, allowing you to choose the ones as per your requirements. Hot-swappable board means desoldering the switches to put in new ones is unnecessary. RGB lighting and customizability are other crucial features, making it ideal for competitive and fast-paced gaming.
Technical Specifications
Connectivity Technology: USB-C
Keyboard Description: Gaming
Number of Keys: 104
Keyboard Backlighting Color Support: RGB
OS: Linux, Mac, Windows 7
Well-Built & Feels Premium
The construction of this keyboard will surely satisfy you. Nice plastic backing, a sleek metal plate, and an edge give the frame a robust look. Also, slightly textured double-shot ABS keycaps don't pick up any oil or fingerprints when working.
Moreover, rubberized feet keep the keyboard steady in its position. Furthermore, a hot-swappable board eliminates the requirement of desoldering when you need to change the switches.
Full RGB Backlighting
Another excellent feature is the RGB backlighting. Happily, customizing the lights is pretty convenient through software. Alternatively, you can directly do this via the board. A wide range of presets is available. At the same time, you are allowed to personalize the effects, an excellent feature.
Pre-Installed Mechanical Keys
Tactile mechanical switches are pre-installed in this keyboard. They don't generate loud sounds. As a result, you can use it in a library or quiet coffee shop. Meaning that you won't disturb the people around you.
Precise Keypresses
The typing experience is great with it. Keypresses feel precise and snappy. There is adequate space between the keys, reducing typos. The rugged ABS keycaps feel nice and of good quality. More importantly, keycaps won't wobble when typing.
Thumbs Up
Pretty quiet should be fine for general office work
Remapping and registering macros are convenient with the software
Long enough wire to reach your computer without issue
Allows you to personalize the backlighting effects easily
Wobble-free keys feel nice and have good quality
Thumbs Down
Why Should You Buy It?
It is a suitable unit for general desktop use and gaming. The keyboard is pre-built and how-swappable. This way, you can choose the preferable switches according to your needs and replace them without soldering. It has a long-enough non-detachable wire, letting you reach your desktop or laptop without a problem.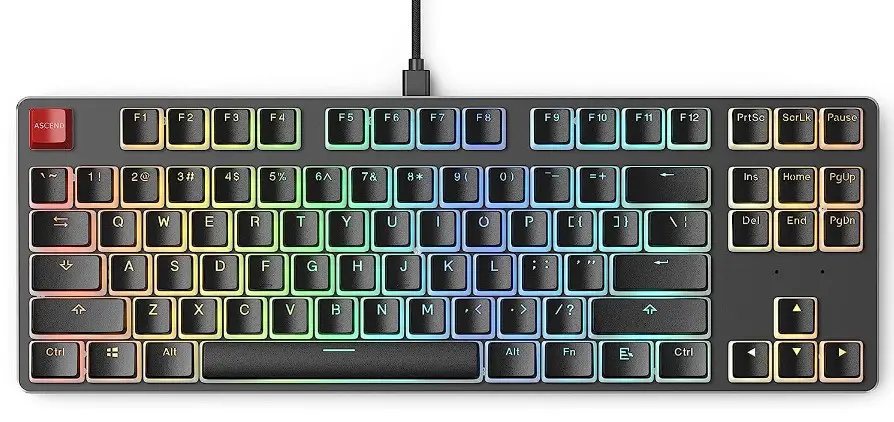 The tenkeyless design of the Glorious Mechanical Gaming Keyboard makes it a compact and small version of its ancestors. Also, modular switch design permits the user to modify the switches without soldering. This unit comes close to achieving perfection. Its relatively low-price tag ensures the best value for your bucks.
Technical Specifications
Connectivity Technology: USB-C
Keyboard Description: Gaming
Number of Keys: 87
Keyboard Backlighting Color Support: RGB
OS: Linux, Mac, Windows 7
Minimal Design 
I didn't find any branding logo or badge on this pre-built keyboard. With minimal design, it doesn't have many frames outside the keys. Thanks to its customizable design. Such a feature allows you to customize it in whatever way you want.
Keycaps fonts are pretty okay, and the icons are tasteful. The low-profile case and cool aesthetic design make cleaning the keyboard convenient.  
Tactile Switches
Do you have any preferable switches to use on this keyboard? Happily, you can use them on this device as long as they are compatible. More importantly, replacing them is effortless, as soldering is totally unnecessary.
Besides, a large majority of switches like SMD LED, 3-pin, plate mounted, etc., can be used with it. The switches are solid and steadily placed. It means they don't wobble.
Standard Keycaps
This keyboard is compatible with a majority of custom keycaps. However, the quality of the built-in keycaps is satisfying. They have a complete aluminum metal top plate, while the bottom plate is made of ABS plastic. Such a build is ideal for fine sound tuning. The ABS keycaps are easy to read and extra bright.  
Lightweight Construction
The inside of the case and the case itself is manufactured with light plastic. Also, it can easily be stored in a travel bag or a desk drawer for its compact size. Moreover, high-quality braided cable gives long-term service. Overall, the keyboard looks pretty solid.
Thumbs Up
It consists of modular switches
Small footprint and aesthetic design
ABS plastic keycaps feel solid
RGB lighting with many customizable modes
The tenkeyless design makes it compact and smaller
Thumbs Down
Too light footprint causing some sliding
Why Should You Buy It?
Do you want to experience your keyboard setup? Definitely, this one will be an ideal choice. The ability to customize the keycaps and switches according to your needs without trouble is the biggest selling point. It is really well-designed. Also, good build quality and value for the price.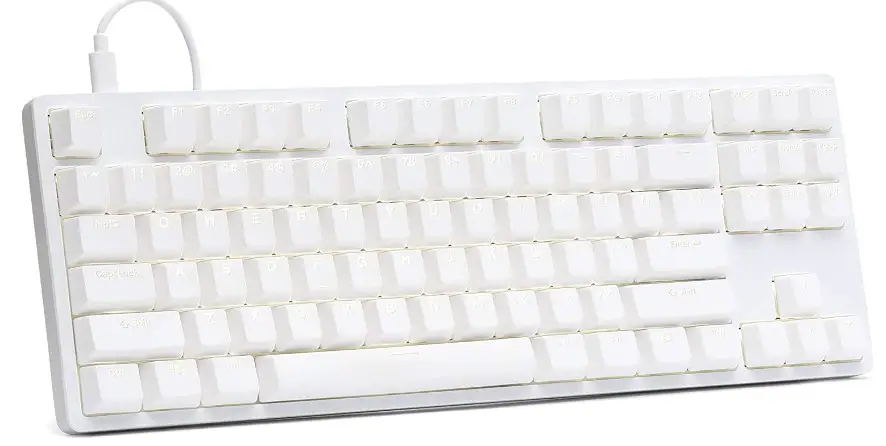 The DAS X40Q has a few unique features, helping you track the most you require. Typing feels nice, and the sound is quiet enough, making it suitable for noise-sensitive environments. This versatile keyboard is designed to improve your productivity. The switch's low pre-travel distance makes it extremely responsive to touches.
Technical Specifications
Compatible Devices: Windows
Connectivity Technology: USB, USB 2.0
Special Feature: Smart Keyboard, Visual Dashboard, Heat Maps, Signals, RGB, Keycaps
Number of Keys: 104
Keyboard Backlighting Color Support: RGB
OS: Linux
Great Build Quality
The build quality will please you for sure. Its base is solid plastic, and the top is aluminum. Thus, it feels heavy and robust. High-quality ABS plastic keys have a nice finish. Also, the detachable wrist rest looks smooth with an excellent plastic finish. Additionally, stable keys don't wobble when you press them.
It is a full-size and long keyboard. The device takes up a lot of space when the wrist rest is included. However, wrist rest is beneficial, especially when you work for a prolonged period.
Modern Switch Design
The switch features enhanced brightness and a modern design. It delivers intense RGB and super bright color settings. This keyboard is 2X times brighter compared to other mechanical keyboards with 16.8 million colors.
Reliable Tactile Switches
It comprises the most reliable and fastest tactile switches, giving this pre-built mechanical keyboard lifespan of 100 million keystrokes. This is a true weapon to let you win your next gaming session. The keys are extremely easy to press, and they are responsive as well.
Ergonomic Detachable Wrist Rest
One of the exceptional features of this keyboard is the ergonomic detachable wrist rest. The surface of the wrist rest is comfortable and soft, allowing you to rest your wrist comfortably.
Thumbs Up
Advanced mechanical switches with 100 million keystrokes life cycle
Fully programmable keyboard
Durable build quality with German engineering
Detachable ergonomic and comfortable wrist rest
Dedicated media control: volume knob and the Q button
Thumbs Down
Why Should You Buy It?
This keyboard is suitable for faster and more accurate typing. RGB lighting and 100 million keystrokes lets it stand out on the market. Overall, it is the ultimate smart RGB keyboard for professionals who like typing accurately. Well-built, quality, customizable lights, and performance are something to make it a value for the price.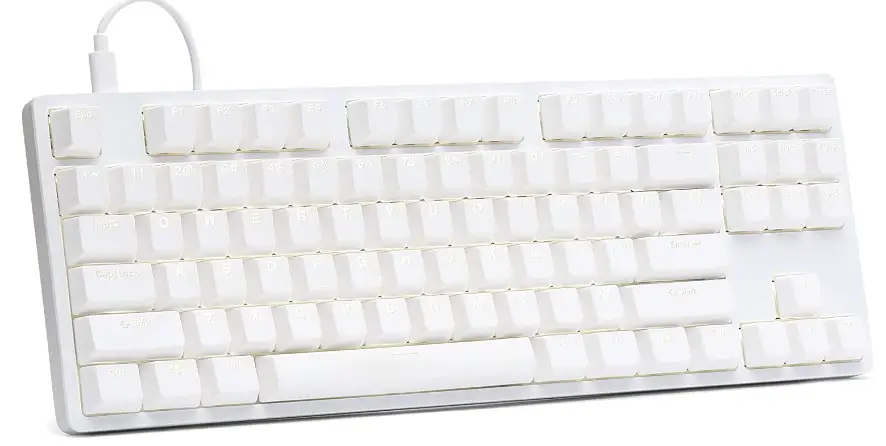 If you are looking for a decent-quality mechanical keyboard, the DROP ENTR will be your best deal. The build quality is excellent. Also, a plastic cover and solid aluminum case ensure minimal flex. Also, the white backlighting can easily be controlled directly from the keyboard. It is comfortable to type and easy to read switches designed keeping the user's comfortability in mind.
Technical Specifications
Compatible Devices: PC
Connectivity Technology: USB-C
Keyboard Description: Mechanical
Number of Keys: 87
Keyboard Backlighting Color Support: Single Color
Outstanding Build Quality
You will be pleased with the outstanding build quality. A plastic top covers the solid aluminum case, feeling nice. At the same time, it doesn't flex. The double-shot PBT keycaps give it a sturdy look. More importantly, everything feels robust and rigid.
At the bottom, you will see 2 rubberized feet, preventing slides. Also, the incline feet allow the keyboard to hold in place steadily. Besides, due to its tenkeyless design, it is smaller. For this reason, it takes less space on your desk.
Good Typing Quality
Typing quality is satisfying. You will feel nice typing with this keyboard due to the PBT keys. More importantly, I didn't find any slight wobbling on the keys. A light force is enough to move a key to begin typing. It means you will barely feel fatigued on the fingers.
Responsive Keys & Quiet Typing 
The tactile switches feel soft and convenient to touch. This model features medium-light Gateron yellow switches, providing smooth linear action. If you are a gentle and fast typist, this will be the suitable one for your job. Their lighter weight gives a linear feel.
N-key Rollover 
This ENTR keyboard consists of an N-key rollover, meaning it keeps up all the keystrokes effectively, regardless of your typing speed. Moreover, white LEDs provide enough visibility in low-light conditions.
Thumbs Up
Advanced USB-C connection ensures reliable connection
The keycaps are made from durable Double-shot PBT
The switches are easy to switch out for a new look
A plastic top covers the anodized aluminum case
You can see and feel the robust build quality
Thumbs Down
Unavailability of companion software
Why Should You Buy It?
It is a tenkeyless board designed with a dedicated row of function keys and arrow keys. This is smaller and compact, not occupying too much desk space. Also, the compact size minimizes hand movement. Everything feels sturdy. It offers faster performance and comes with ergonomics.

Do you need a little extra space on your desk when playing games? Buy the Logitech G915 TKL Mechanical Gaming Keyboard. Its slim design makes it much more compact than it actually is. Smart structure, brushed metal frame, RGB lights, several programmable buttons, etc., are a few standout features. It is one of the best tenkeyless gaming keyboards I have ever seen.
Technical Specifications
Compatible Devices: Gaming Console
Connectivity Technology: HDMI
Special Feature: Integrated Backlighting, Built-in Battery, Compact Keyboard, Low-profile Keys
Number of Keys: 90
Keyboard Backlighting Color Support: Single Color
OS: Windows 7 or later (64-bit) or macOS X 10.11 or later
Smallest & Lightest
This is the smallest mechanical keyboard with 15.2" X 5.9" X 0.9" of measurement. The numpad is given up for the tenkeyless design. However, like other tenkeyless keyboards, it doesn't make any compromise with other buttons as full-size Enter, Backspace, and Delete keys are available.
You will also be pleased to find the volume dial-up top and circular media keys. In addition, it has a storage option in the back of the keyboard for storing the USB receiver, providing additional portability.
3 Different Low-profile Key Switches
The model is compatible with 3 low-profile key switches: GL Clicky, GL tactile and GL Linear. Whatever switches you use, each one has unique charms. You will be able to achieve impressive performances over typing. Also, the keyboard is designed to minimize disturbing noise when typing, regardless of the switch types.
Beautifully Crafted
Aircraft-grade aluminum alloy is used in making this keyboard, making it rigid and durable. Although the unit seems thin, it is strong to withstand accidental knocks and falls. Rubberized buttons atop the keyboards are comfortable and soft to the touch.
Exceptional Battery Life
Another remarkable feature is the exceptional battery life. The battery lasts 40 hours on a single charge with the RGB lights turned on. If you turn the lights 50% on, you will get 149 hours of service from the battery. On the other hand, when the lights are turned off, the keyboard battery lasts 249 hours. Such high battery life is barely found in other mechanical keyboards.
Thumbs Up
Compact and small size
Excellent switches
Durable construction
Gorgeous design
Discrete media keys
Thumbs Down
Why Should You Buy It?
The Logitech G915 is a well-designed keyboard with many features like wireless, 16.8M RGB lighting, low-profile switches, etc. Though it is expensive, bug-free software, robust build, and functional keys make it earn the asking price.
Buying Guide – How to Buy the Best Prebuilt Mechanical Keyboard
Choosing the best prebuilt mechanical keyboard is challenging. Let's cut through the challenge and choose the suitable one for your needs considering the below factors.
Switch Type
Prebuilt mechanical keyboards are designed with 3 switch types: tactile, clicky, and linear. Each type has its own set of benefits and drawbacks.
Linear Switches: These switch types feel smooth and have zero bumpiness when typing. They offer quiet performance as well. Common colors for linear switches are red and black.
Clicky Switches: They create a loud noise. Also, these switches feel bumpy during every keystroke. Common colors for clicky switches are blue and green.
Tactile Switches: They are quiet but feel bumpy when hit. Common colors for tactile switches are brown and clear.
Overall, choose the switch types according to your needs.
Purpose
Why do you need a mechanical keyboard? Is it for gaming or office work, or others? The purpose will help you decide on the model easily.
For gaming purposes, black or red switches are the best. These switches are smooth. Also, they remain cool when you press them rapidly.
For office work or other purposes, go with blue or brown switches. They are nice and prevent typos with the help of tactile bumps.
So, you must know the purposes of buying a mechanical keyboard. This will help you make a precise decision.
Size
You will find keyboards of different sizes. If you plan to buy a prebuilt mechanical keyboard, determine which keys you use.
For instance, most people buy a keyboard with a number pad while barely using it for entering numbers. Are you one of them? I recommend buying a tenkeyless prebuilt mechanical keyboard. Try to know what are the other keys that you never touched. Buy smaller sizes like 65% or 75% keyboards, if there are any.
Features
Keyboard features are beneficial from person to person. One feature might be helpful for gamers, while others might not find it useful.
RGB lighting, N-key rollover, powerful firmware or software, wired connection, fast response time, etc., are a few helpful features for gamers. These features help a gamer to take their gaming skill to the next level.
Some must-needed features for office or typing work are PBT keycaps, adjustable typing angles, tactile switches, wrist rest, easy-to-read legends, lubed stabilizers, etc. These features make typing and office work effortless.
How to Silent Your Prebuilt Mechanical Keyboard
Is your prebuilt mechanical keyboard making disturbing noise? Happily, you can eliminate it by following a few simple tips.
Tip #01: Keep a Desk Mat Below the Keyboard
The sound of your keyboard can easily be dampened by keeping a desk mat below the keyboard. Vibration and movements will surely reduce while typing after placing a desk mat.
Tip #02: Add Foam to the Keyboard Inside
The pinging and movements of the keyboard get absorbed if you add foam to the inside of the keyboard. You will require the foam and a screwdriver to do this. Place the foam between the PCB and the bottom casing. If you are experiencing loud pining from the keyboard when typing, this process is handy.
Tip #03: Install Rubber O-rings
Installing rubber O-rings is another effective way to reduce the sounds. These rings are affordable, easy to install and uninstall, and work effectively in reducing keyboard typing noise.
Tip # 04: Lube the Switches
Lubing the switches is one of the effective tactics to reduce sound output. Since keys have moving stems and springs, friction will be eliminated when lube the switches periodically.
Tip #05: Replace the Switches (if required)
This is the ultimate solution. If nothing works for you, be sure there are problems with the switches. In this case, replacing them is the best solution. For this reason, make sure your keyboard switches are replaceable before proceeding.
FAQ
Are prebuilt mechanical keyboards loud?
Generally, mechanical keyboards create 50 dB to 60 dB of sound when typing. This sound level is tolerable. However, a few mechanical keyboards generate 78 dB+ sound. You must follow the above-mentioned tips for these keyboards to minimize the sound level.
Prebuilt vs. custom mechanical keyboard – which one to choose?
Selecting the best keyboard completely relies on the user's requirements. Buy a prebuilt mechanical keyboard if,

1. You want the highest performance
2. You need the most refined software

Buy a custom mechanical keyboard if

* Keyboard customizability is your top preference
* You require unrivaled typing experience
Final Words
When searching for the best prebuilt mechanical keyboard, consider factors such as build quality, switch type, and additional features. Ultimately, it's about finding the one that fits your preferences.
I recommend buying the Glorious Tenkeyless Mechanical Gaming Keyboard. This is smaller and compact, giving you enough space on the desk. The keys are soft and comfortable to work with, and you can swap them with clicky, linear, or tactile mechanical switches if required. Also, it features 16.8M RGB per key, OEM layout, superior performance, etc., to take your typing experience to the next level.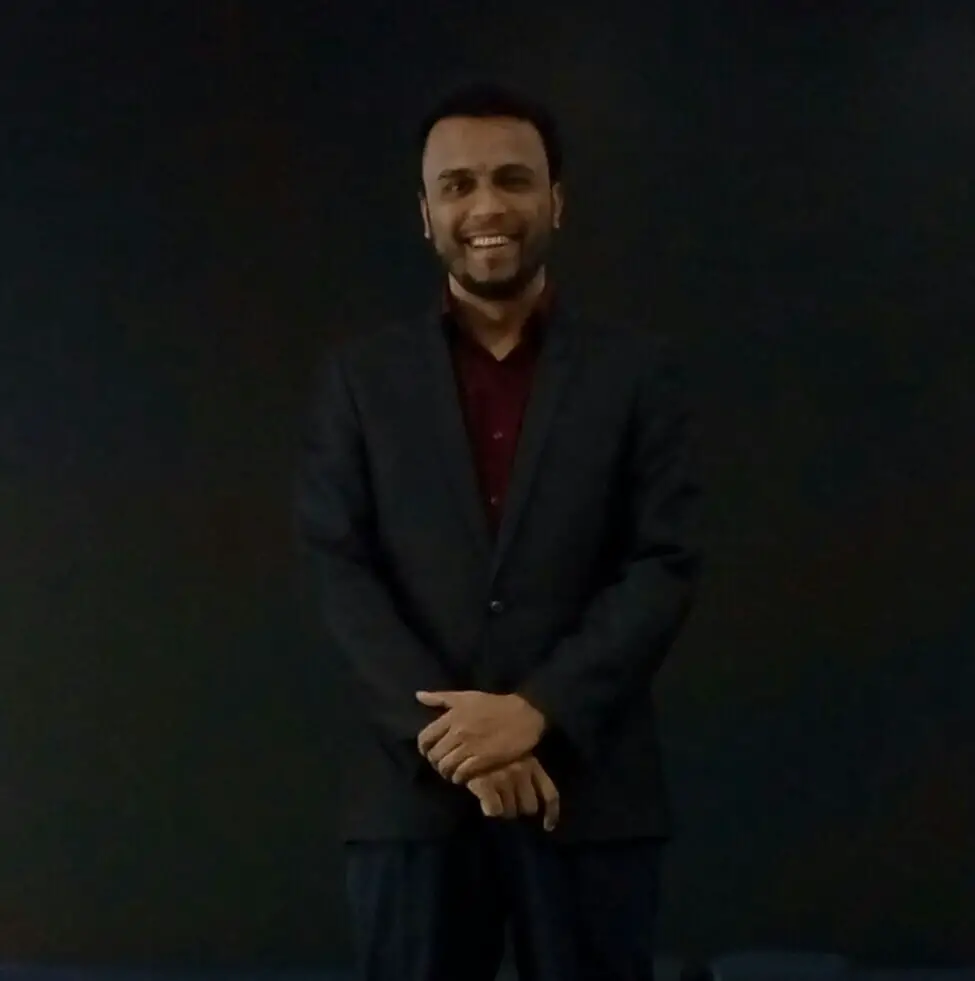 I am a regular user of computer keyboards. For using keyboard face different kinds of problems and also solve it very easily. I love sharing knowledge about keyboards.