The popularity of mechanical keyboards is skyrocketing for several reasons among gamers and persons who type frequently. For this reason, manufacturers are making different models of mechanical keyboards. Thus, you will find a wide range of mechanical keyboards in the market. So, what is the best mechanical keyboard under $150?
Don't assume that being affordable, these keyboards lack features and benefits. The reality is they will surely level up gaming and typing experience. They are crafted with RGB lighting, durable construction, smooth switches, and adjustable angle to provide a consistent and comfortable working experience.
So, are all budget mechanical keyboards the same? Undoubtedly No. You must look at the features, benefits, and drawbacks carefully. I crafted this comprehensive guide to help you find the suitable one for your work.  
10 Best Mechanical Keyboards Under $150 Review 2023
When preparing this list of affordable mechanical keyboards, I looked at the build quality, overall design, switch types, RGB backlighting, keycap materials, etc. Check out my choices below.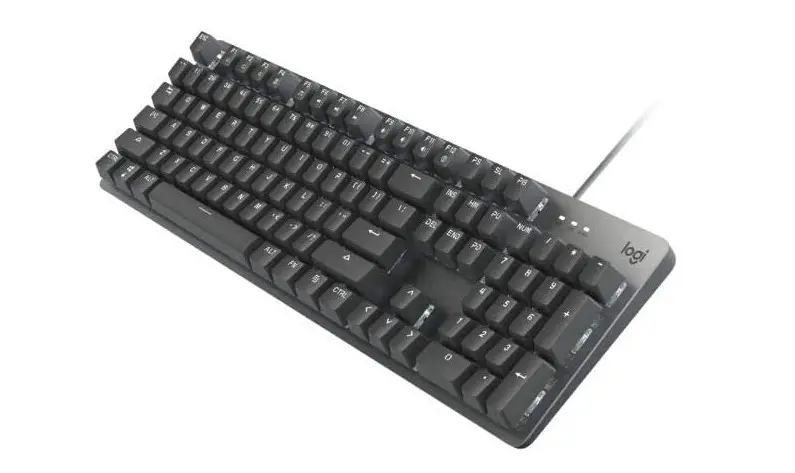 The Logitech K845 is built for work and ready for play. All the necessary mechanics are available with a modern and sleek design. The Full-size keyboard feels well-built. Its Cherry MX Blue switches provide an excellent and precise typing experience. 
Moreover, you can put other types of switches to suit your preferences. Also, the keyboard is comfortable, and you won't feel tired to type on.  
Technical Specifications
Compatible Devices: Gaming Console
Connectivity Technology: USB
Keyboard Description: Standalone
Number of Keys: 104
OS: Windows 8, Windows 10, 11 or later, Windows 7
Modern Aluminum Design
The keyboard is built for typing. Premium aluminum top case and floating keys give it a crisp look. It is designed to work and takes up a fair space on the desk for being a full-size keyboard.  
Moreover, it is built to last for many years. The top is made of solid anodized aluminum making it extra durable. Additionally, the mechanical switches are tested for up to 50 million clicks. Moreover, the numbers, alphabets, symbols, etc., won't fade away. 
5 Ways to Backlight
You will have the utmost comfortable typing experience with this keyboard. Even you can type in the dark with ease. It features 5 lighting patterns, allowing you to light the whole keyboard. The patterns light up every key, so you won't face trouble seeing them.  
Mechanical Key Switches
The switches are durable, giving a long-term multi-sensory typing experience. You will also be impressed with your speed and accuracy when typing. More importantly, you can choose between clicky, tactile, and linear switches according to your style. Moreover, its keycaps are grippy since they have rough textures.
Thumbs Up
It offers comfortable typing for longer
Modern aluminum design
5 Backlighting patterns
Adjustable 4-8 degree tilt and slim front
Compact footprint
Thumbs Down
No customization software
Why Should You Buy It?
This will be a great deal if you are looking for a basic mechanical keyboard. All the hardware is impressively sturdy. Adjustable tilting allows you to type conveniently for longer without wrist pain. Also, the keystrokes are of the utmost accuracy and responsiveness.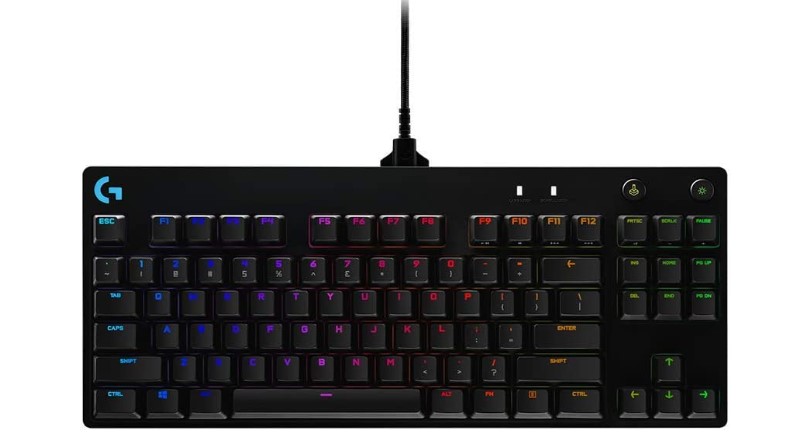 The Logitech G Pro is an outstanding keyboard for work and play. It is suitable for those who are short on space. This classier-looking mechanical keyboard has a wide range of game-centric features. 
This device will surely improve your performance, speed, and precision in gaming competitions. Numpad and dedicated macro buttons are not there, giving it a compact look and letting you carry it wherever you want.
Technical Specifications
Compatible Devices: Gaming Console
Connectivity Technology: Bluetooth
Keyboard Description: Gaming
Number of Keys: 90
Special Feature: Lighting
TKL Design
Ten-keyless design means Numpad is unavailable on this keyboard. As a result, it has a smaller footprint than full-size models. Such design permits an esports gamer to slash it into their backpack, heading to tournaments.  
At the same time, it offers other potential benefits for being a smaller keyboard. The smaller size allows you to work with it on a standing desk easily. Also, it is ideal for a living room gaming setup.
RGB LED
Each key has RGB LEDs. The cap is designed to minimize the light splits between the keys. So, you will always get a bright keyboard. The bright-looking LEDs give it a classy look. Turning the LEDs on and off is pretty straightforward with the built-in button in the top right corner. 
Moreover, if you need to customize the RGB, do it effortlessly with the help of an app named G Hub. 
3-step Angle Adjustment
Who doesn't want comfort when typing on the keyboard? Comfort is one of the key requirements of a customer. Keeping this point in mind, the manufacturer adds a 3-step angle adjustment. So, adjust the angle as per your preference for extra comfort. 
Thumbs Up
Portable and petite
Excellent responsive keys
Bright LED quality and implementation
Quiet keystrokes
Robust build quality
Thumbs Down
Macro keys only limited to Function key
Why Should You Buy It?
This Tenless keyboard is superb for typing. Both the customization and look are terrific. Key markings are perfectly shown. So, you will be able to type faster than before. Overall, this mechanical board is something that you can't evaluate by looking at the websites.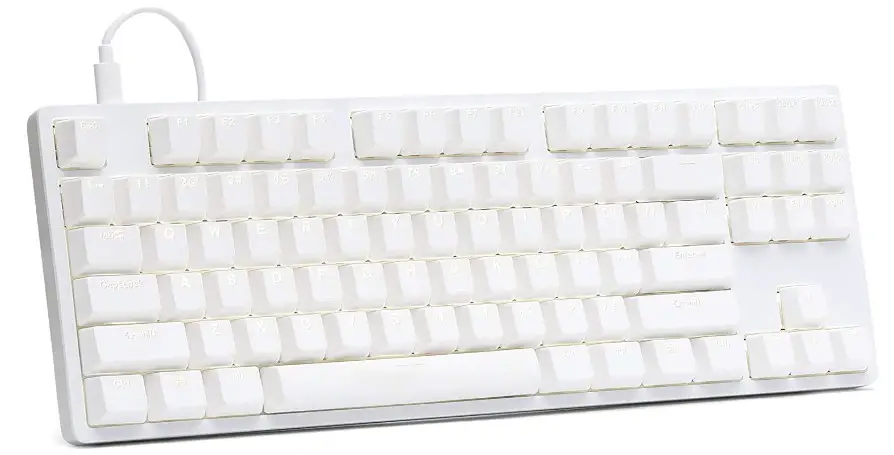 The DROP ENTR Mechanical Keyboard is engineered with enthusiast-grade materials. It is a win-win option for those looking for an affordable mechanical keyboard for many years. TKL's layout, aesthetic look, etc., suits any environment. 
Also, its premium build makes it feel like so much more. Overall, this is an incredibly well-constructed keyboard that promises to offer many years of service. 
Technical Specifications
Compatible Devices: PC
Connectivity Technology: USB-C
Keyboard Description: Mechanical
Number of Keys: 87
Special Feature: Lighting 
Durable Doubleshot PBT Keycaps
The keycap quality is the same as other standard keyboards. Durable doubleshot PBT keycaps never fade away. Also, if you want to give a new look to your keycaps, switch them easily. The keycaps are available in 3 colors, making it an unbeatable value.
Streamlined Build Quality
Its build quality is something that every customer praises. An anodized aluminum case and a plastic top cover give it a robust look. The keyboard is heavy enough to remain stable on the desk. On the other hand, it is lightweight for convenient transportation. 
In addition, it has 2 rubber feet, preventing the keyboard from sliding. Also, the incline feet hold the unit surprisingly well on the desk. 
Good Typing Quality
Typing quality is decent enough. The Doubleshot PBT keys feel nice and responsive while typing. More importantly, the slight wobbling of the keys is unnoticeable. Moreover, you won't have to force the keys to type. 
Whereas the pre-travel and total traveling distance are short, you will have a responsive typing experience.
Thumbs Up
Medium-weight Gateron yellow switches
Fade-proof doubleshot PBT switches
Made from enthusiast-grade materials
Responsive to every keystroke
Uses upgraded USB-C connectivity
Thumbs Down
Unavailability of comparison software
 Why Should You Buy It?
You can feel the excellent build quality of this keyboard. Detachable USB-C cable is easy to plug and unplug, lightweight construction, backlight, etc. are some key features that help it create a buzz in the business. You can work with it across different workspaces, including coffee tables, computer desks, or kitchen tables.

The Logitech G915 is a full-sized mechanical gaming keyboard designed with low-profile switches and keycaps. Multi-drive pairing, full RGB backlighting, etc., are some of the key features making it worth the price.
Interestingly, you won't feel discomfort while typing with it for long hours, even without the wrist rest. It is compatible with 3 switch variants: GL Linear, GL Clicky, and GL Tactile. 
Technical Specifications
Compatible Devices: Gaming Keyboard
Connectivity Technology: HDMI
Number of Keys: 90
OS: Windows 7 or later (64-bit) or macOS X 10.11 or later
Special Feature: Integrated Backlighting, Built-in Battery, Compact Keyboard, Low-profile Keys
Great Build Quality & Design
Most customers appreciate its great build quality. Metal frame and hard plastic cover give it a rigid look. Also, doubleshot keycaps ensure the durability of the board. Also, the keycaps are made of ABS plastic. So, they will shine a bit over time. In addition, the keys don't wobble during regular use. 
TKL design gives you enough space on the desk for convenient mouse movement. More interestingly, a storage area on the back of the keyboard lets you store the USB for easy portability.
Long Battery Time
One of the biggest features of this keyboard is its long battery life. It lets you enjoy a maximum of 40 hours of break-free gaming sessions on a single charge. When the battery reaches the 15% mark, the keyboard notifies by blinking the LED. Its recharging time is also less, only 3 hours.
Dedicated Media Control
You won't have to control multimedia anymore through the computer media options. The reason is this keyboard is designed with dedicated media control. The volume wheel lets you increase or decrease the media sounds convenient. Also, you can play, pause, skip, or mute your media with the help of this keyboard.
Thumbs Up
Pro-grade performance
A combo of speed, accuracy, and performance
Aircraft-grade aluminum alloy design
40 hours of battery life per charge
TKL design for comfort
Thumbs Down
RGB shines less through the keys
Why Should You Buy It?
Looks, materials, performance, usability, functionality, layout, etc. everything is good about this keyboard. It is not loud, and RGB colors are clear and pretty bright. Overall, this keyboard is worth every penny.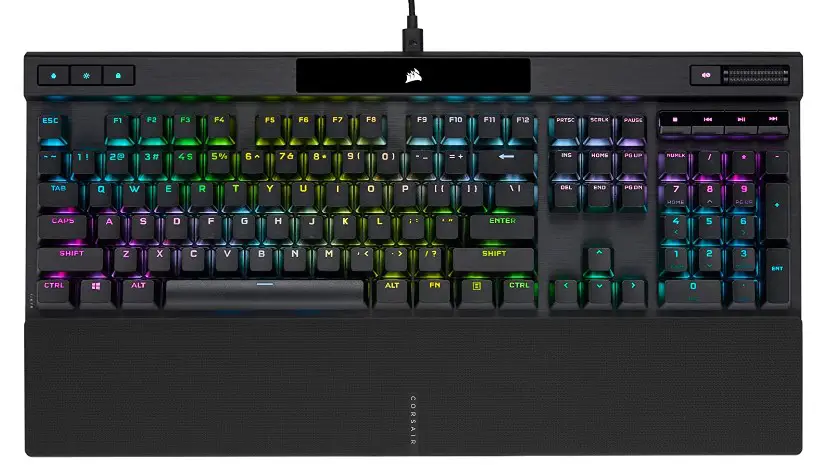 Are you a game geek looking for a premium-quality gaming keyboard? Look no further and buy the Corsair K70 Mechanical Keyboard. It is designed with gamers in mind and is suitable for high-end systems. The double-shot PBT keycaps retain the shine of the keycaps, no matter how hard you press them. 
On top of the keyboard, you will notice "Tournament Switch," setting the RGB light to a static and single color. 
Technical Specifications
Compatible Devices: Gaming Console
Connectivity Technology: HDMI
Special Feature: Backlit
Number of Keys: 104
Keyboard Backlighting Color Support: RGB
Ruggedly Crafted Full-size Keyboard
This is a full-size keyboard with a wrist rest, taking up much space on the desk. However, the wrist rest comes with a detachable feature. As a result, if you need more space on your desk, simply remove the wrist rest and attach it when necessary. 
The hard plastic is used in the chassis, while the top is made with brushed aluminum. Also, the slight texture on the doubleshot keycaps feels nice to touch. Besides, it has 4 large rubberized feet, keeping the keyboard in place when typing.  
Amazing Typing Experience
Typing experience will be amazing with this keyboard. The keycaps are well-textured and don't get slippery or oily overtime during regular use. Also, space between the keys is enough and standard, eliminating the learning curve that may require getting used to the new customization.
Macro-programmable Keys
Every key is macro-programmable, and they can be programmed in 2 ways: on the board directly using the instruction manual and the iCUE companion software. Also, it has dedicated volume control above the numpad for easy control of the media sound.
Thumbs Up
RGB with durable aluminum frame
Detachable wrist rest
Hyper-processing technology
Guaranteed to 100M keystrokes
Polycarbonate keycaps
Thumbs Down
It takes up a lot of space on the desk with a wrist rest attached
Why Should You Buy It?
Do you spend several hours typing, gaming with your keyboard, and feeling wrist pain? This will be ideal if you want a keyboard with a wrist rest. You will barely feel tired or pain in your wrist with this keyboard.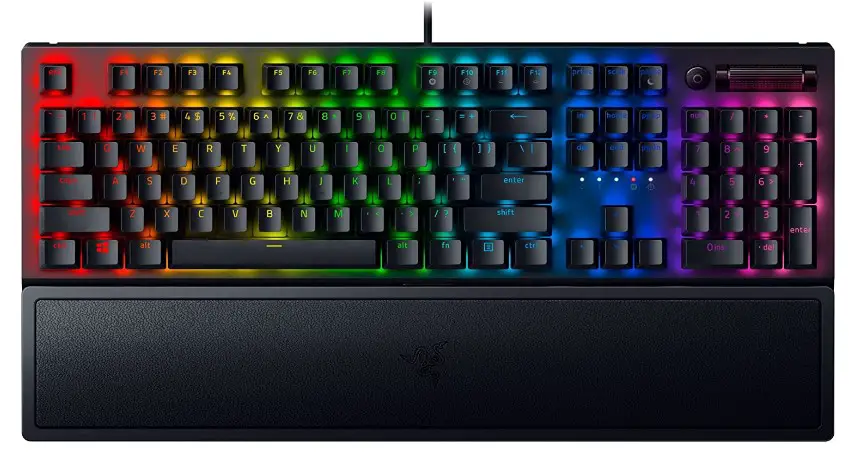 The Razer Blackwidow V3 is a bombastic full-size keyboard featuring RGB lighting. Its switches are allegedly fine-tuned for gaming. Also, it has a comfy wrist rest, dedicated media control, and quality construction, offering a wonderful typing experience.
This keyboard is optimized for tournament-grade durability and performance. So, it helps you level up your performance in the game.
Technical Specifications
Compatible Devices: PC
Connectivity Technology: USB
Special Feature: Magnetic
Number of Keys: 104
Keyboard Backlighting color Description: RGB
Gaming Keyboard Design
The whole body is plastic, while durable matte-black aluminum is used at the top. Doubleshot ABS keycaps guarantee durability, and the legends of the keys will never fade over time. Every keystroke will respond perfectly, and repeated strokes will not damage the overall quality of the keyboard.
Built-in cable management at the bottom lets you easily store the 6 ft. cable when traveling. Also, 4 rubberized pads at the bottom steadily hold the keyboard in place. 
Standard 104-key Layout
The keys are designed for long-term durability. Its switches withstand 80 M keystrokes. Most aggressive and prolific users will get excellent performance for a few years. Ergonomics is good. The board is straight, having 2 inclines. Included wrist rest allows you to work with it for several hours without discomfort.
Outstanding RGB Backlighting
Want to get a vibe look on your keyboard? Try the RGB backlighting feature, allowing you to customize the backlighting with the help of Synapse 3 software. More interestingly, the blue, green, and red colors don't get mixed as the backlights are precisely positioned. The brightness can be controlled directly through the Fn keys.
Thumbs Up
Responsive and lightweight switch
Macro-programmable switches
Perfectly bright and customizable RGB backlighting
Built for actuation and speed
Sound dampeners are included for quiet performance
Thumbs Down
Why Should You Buy It?
This keyboard is surely one of the best in the market. Custom-built wrist pads, excellent build quality, easy-to-replace caps, effortless to-program keys, customized lighting, super-fast keystroke response, etc., will please you and give you a great typing or gaming experience.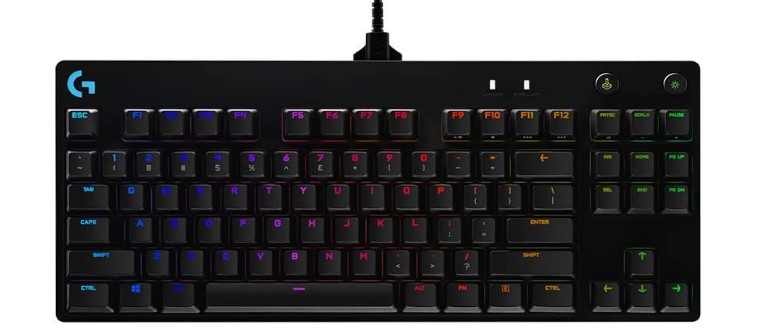 The Nuphy Air75 Mechanical Keyboard has many innovative design features like pleasantly colored spherical PBT keycaps, RGB light bars, solid case, frame, etc. It features a wide range of Bluetooth 5.0, 2.4 GHz wireless, and USB-C connectivity options. At the same time, it is compatible with both Windows and Mac systems, giving you the flexibility to work at the office.
Technical Specifications
Compatible Devices: Laptop, PC, Tablet
Connectivity Technology: Bluetooth, 2.4G, USB-C
Special Feature: Chargeable, Ergonomics, Hot-swap, RGB
Number of Keys: 84
Keyboard Backlighting color Description: RGB
Low-profile Mechanical Keyboard
This is the thinnest and most innovative keyboard available on the market. It uses 84 keys which takes less space on the computer desk. You will also be pleased with the ultra-thin aluminum frame and aluminum alloy stamping process.
For such an innovative design, it doesn't cause damage, pain, or wrist fatigue when used for prolonged hours. 
Multi-device Connection
A plethora of connection methods is another worth-mentioning feature of this keyboard. The connectivity options are USB-C, 2.4 G wireless, and Bluetooth 5.0. 
More importantly, you can connect a maximum of 4 devices simultaneously while switching between the devices is pretty convenient. This feature permits you to use it for office work, casual and outdoor gaming, and at home.
Incredible Battery Capacity
According to the lab test, it uses a 2500 mAh battery that lasts up to 48 hours per charge. However, if you want to extend the use time, I recommend turning off the backlight. The battery is engineered to fulfill the requirements of a week of work. 
Thumbs Up
Compatible with Mac and Windows
4 side light modes and 21 backlight modes
LED light indicator for battery power
Customizable lighting effects
2500 mAh battery capacity
Thumbs Down
Why Should You Buy It?
This keyboard is well-crafted, offering a comfortable typing experience. The backlight also has a variety of different patterns and colors. Moreover, its keycaps feel really smooth and impressively responsive to every touch. This will be a great deal if you are seeking a compact and affordably priced mechanical keyboard.
The Corsair Wired K60 PRO is a decently priced mechanical keyboard featuring all the necessary options to take your gaming session to the next level. Nice brushed aluminum top plate, Cherry branded mechanical switches, RGB presets, etc., give it a modern look and years of battle-tested durability.
This is fully mechanical and the one you should add to your shortlist.
Technical Specification
Compatible Devices: Gaming Console
Connectivity Technology: Bluetooth
Special Feature: Lighting
Number of Keys: 104
Keyboard Backlighting Color Support: RGB
Superior Build
The frame is brushed aluminum, while black anodization provides years of battle-tested durability. Also, it uses 100% German-made Cherry switches, offering smooth linear travel for quick and precise inputs.
Such a construction means you will get a few years of efficient service. The keycaps remain stable, and legends don't fade over time.
Per-key RGB Backlighting
Illuminate your keyboard with RGB backlighting when required. The backlight is available in every key, allowing you to type or play games under dim light conditions without hassle. You can customize the backlight with unlimited effects and colors. 
At the same time, powerful iCUE software lets you easily control the dynamic RGB lighting, macro programming, key remapping, etc. 
No Anti-ghosting
No matter how fast you type with this keyboard. This unit responds to every keystroke. More importantly, full N-key rollover with 100% anti-ghosting always confirms registered keystrokes. Besides, the keys are super springy, and you will feel like typing on a trampoline. Overall, the keys feel nice, responsive, and quiet.
Thumbs Up
Keys are extremely sensitive to touch
Customizable RGB backlighting
Quick actuation
Silent keyboard
Incredibly durable
Thumbs Down
Why Should You Buy It?
This keyboard will surely meet your requirements when it comes to typing, coding, and gaming. Typing or gaming with it becomes effortless. Rock solid construction offers a pretty durable look. Backlighting is unbeatable, and it is bright, colorful as well as appealing. All in all, this is an affordably priced keyboard fulfilling every gamer's needs.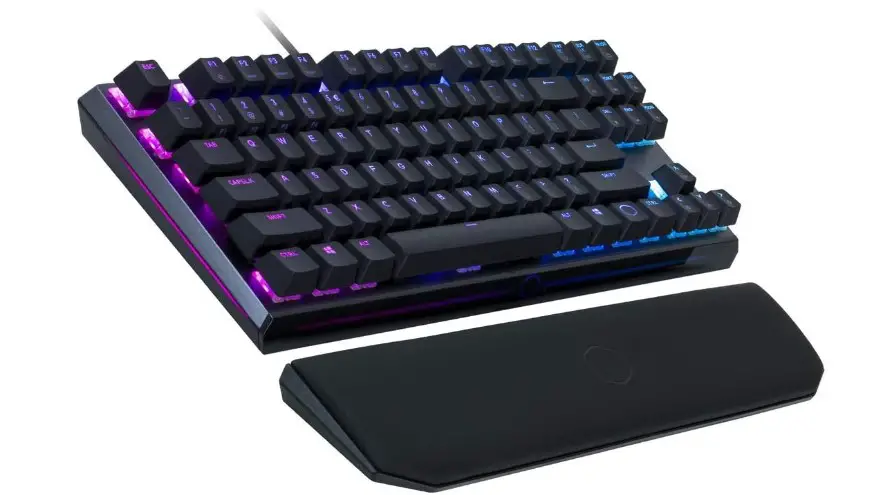 Do you spend a lot of hours gaming or typing? The Cooler Master MK730 is good for 50M keystrokes. Also, it is compatible with tactile, click, or linear switches. Its ten-keyless design saves a lot of space on the desk. So, you will not face any trouble moving your mouse. 
This keyboard is fully crafted with practical features like Cherry MX Brown RGB switch, 6-key or N-key rollover, etc., to confirm success. Moreover, all your fast keypresses will be registered for sure.
Technical Specifications
Compatible Devices: Gaming Console
Connectivity Technology: USB
Keyboard Description: Gaming
Number of Keys: 87
Keyboard Backlighting Color Support: RGB
Top-notch Construction
The build quality is the most satisfying feature of this keyboard. It features a solid plastic back frame, and the aluminum frame on top gives it a premium look. This unit doesn't flex much because of the solid construction. Its keycaps are made with doubleshot ABS, ensuring durability. Also, the keyboard includes more stable additional double-shot PBT keycaps.
The incorporated wrist rest is made of plastic but gives a nice look due to the smooth finish. Rubberized feet prevent sliding and keep the keyboard in place.
Standard RGB Backlighting
RGB backlighting with individually-lit keys is one of the key features of this keyboard. Moreover, dedicated software is available if you want to control the lights. The software allows you to control the Led settings and brightness according to your preferences. You can illuminate the keyboard with several lighting effects in 16.7 M colors.
Cherry MX RGB Switches
It uses 100% genuine switches. More importantly, this unit is crafted for 50 million keystrokes. Also, the switches have fairly short pre-travel distances. The keys are clicky and suitable for open-office environments. 
Thumbs Up
Removable magnetic wrist rest
On-the-fly controls for real-time change of the settings
TKL design
Nicely feel keycaps
A solid mechanical keyboard keeps things simple
Thumbs Down
Why Should You Buy It?
Overall, this is an excellent gaming keyboard. The Cherry MX Brown switches provide low-travel distance and offer good tactile feedback. Macro-programmable keys, wrist rest, full RGB backlighting, etc., make it ideal for intense gaming sessions.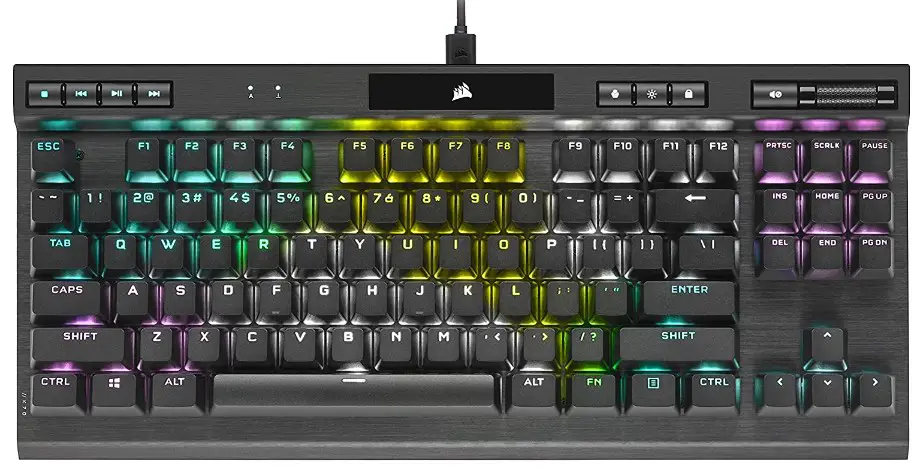 Are you an eSports professional looking for a keyboard to take your gaming experience to a new level? Don't look further; buy the Corsair K70 Mechanical Gaming Keyboard. This keyboard meets the expectations of every gamer. 
It is designed with Cherry MX mechanical switches and has per-key RGB lighting and other various features that attract pro gamers. Let's look at its design, features, and performance.  
Technical Specifications
Compatible Devices: Gaming Console
Connectivity Technology: USB
Keyboard Description: Mechanical
Number of Keys: 88
Keyboard Backlighting Color Support: RGB
TKL Keyboard
The unit has 88 keys and a TKL design, meaning it won't take up much space on the desk. So, if you have a compact computer desk, it will fit perfectly. This unit has all the necessary buttons to achieve the best gaming or typing experience. 
Moreover, you can detach the USB Type-C cable for convenient carrying wherever you want. Also, a tournament mode switch helps you carry to victory in a competition by allowing you to focus on critical gaming moments. 
Hyper-processing Technology
The biggest feature that attracts most pro gamers is the hyper-processing technology. This feature transmits each keystroke to the computer 8X faster than other gaming keyboards. So, keystrokes will definitely be missed, no matter how you type.
Excellent Features
Durable aluminum frame construction permits you to take on the competition in style. You can create your personalized lighting effects by programming the RGB backlight. The precision-molded PBT double-shot keycaps resist shine, fading, and wear effectively, giving the keyboard a new look for many days.
Thumbs Up
The tournament-mode switch disables accidental macro activations
Responses faster than conventional keyboards
It lets you personalize lighting effects easily
Space-saving TKL design
Designed for pro-gamers
Thumbs Down
Why Should You Buy It?
The keyboard functions greatly for its intended purposes. It doesn't take up a lot of space while featuring all the necessary buttons. The raised switches help you clean them conveniently. The backlighting is amazing, and the USB type-C cable is detachable for easy carrying. 
FAQs
Are mechanical keyboards good for typing?
Yes, mechanical keyboards are an ideal choice for typing. You will have a more enjoyable typing and gaming experience with these keyboard types. They feature a variety of customization, giving you an excellent working experience.
Do mechanical keyboards help you type faster?
Usually, you will find a small increase in your typing productivity with mechanical keyboards. At the same time, you will have an improved feel and ergonomics. These keyboards come with a wide range of switch options, keycap profiles, sizes, and heights, giving you the required comfort to increase your typing speed.
How long do mechanical keyboards last?
A mechanical keyboard will give you roughly 10 years of efficient service. However, the longevity depends on the usage of the keyboard. Moreover, the mechanical keyboard switches are designed to work for a minimum of 50 M keystrokes. So, mechanical keyboards will be the best option if you use the keyboard a lot.
Final Words
Finding the best mechanical keyboard under $150 is a quest for a perfect balance between performance, durability, and affordability. You can discover keyboards that offer satisfying performance by exploring various options within this price range.
If you are unsure which model to buy, I suggest buying the Drop ENTR Mechanical keyboard. It has an aluminum case with a ten-keyless design giving you enough space on the computer desk for convenient mouse movement. Doubleshot shine-through PBT keycaps never fade or shine, giving a new look for many days. Also, fast and linear switches are quite responsive. Moreover, the white backlit LED illuminates the keys, providing flexibility when working under low light conditions.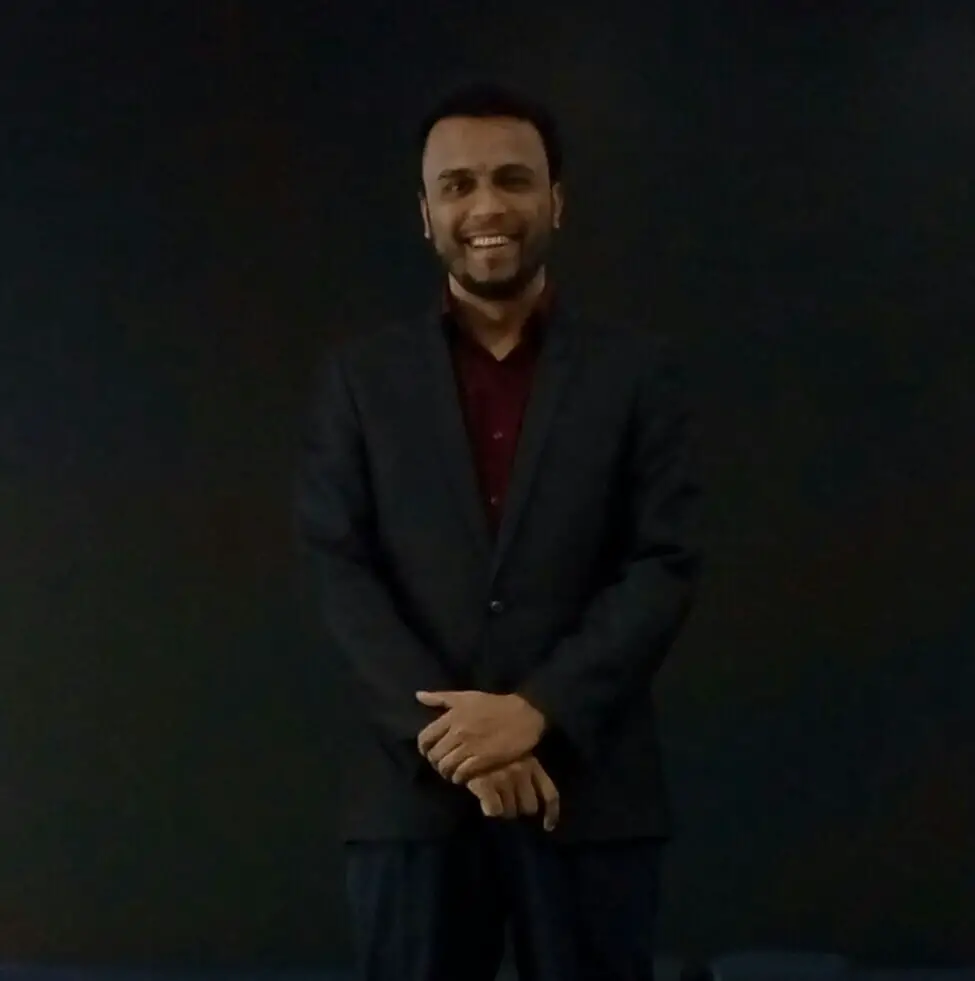 I am a regular user of computer keyboards. For using keyboard face different kinds of problems and also solve it very easily. I love sharing knowledge about keyboards.