Barebone keyboards are easy to use; you can customize the keys according to your preference. Many gamers prefer these keyboards because typing becomes a breeze and error-free. But are all barebone keyboards built equally?
Superior build quality, hot-swappable capability, a wide range of connectivity options, etc., are guaranteed with the best barebone keyboard. Also, you will get more keycap options and key switches in them, making these keyboards more customizable. While cheaper models are less durable and come with poot compatibility.
Do you want to customize your keyboard yourself? Read my reviews and choose the one that meets your requirements.
Why Do You Need to Use a Barebone Keyboard?
Barebone keyboards have many benefits. Here I listed some of them.
Barebone keyboards allow you to customize your keyboard switches according to your preferences.
You can choose the switches and keycaps that feel good to you. Then install them for ultimate typing performance.
Swapping the switches is much more convenient with a barebone keyboard hot-swappable PCB. While pre-built keyboards don't consider the ease of assembly and disassembly, barebones ensure the effortless installation of the switches.
If you don't require a switch or keycaps, avoid installing the switch on the keyboard. Thus, you can avoid the unusual presence of the keycaps and save a few bucks.  
10 Best Barebone Keyboard Reviews 2023
The below list is prepared based on their performance, construction, ease of use, and price. Read the features, pros, and cons of choosing the right one for your needs.  
1# Glorious Full Size Barebone Keyboard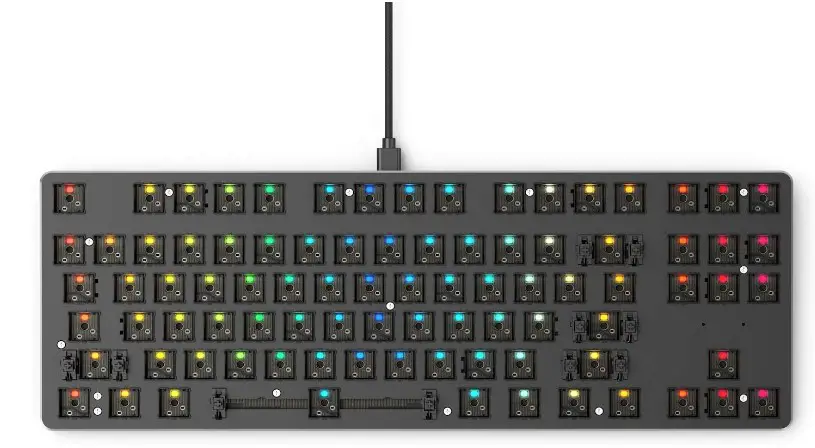 The Glorious Full Size Barebone Keyboard is completely customizable and has excellent build quality, offering great value. It has an OEM layout with 87 keys. RGB backlighting, hot-swappable switch sockets, ergonomic design, and outstanding compatibility help it stand out.
Technical Specifications
Compatible Devices: PC, PlayStation, XBOX, Mac
Connectivity Technology: USB-C
Special Feature: Hotkeys and Media Keys
OS: Windows 8.1, Windows 8, Windows 7, Windows 10
Number of Keys: 87
Keyboard Backlighting Color Support: RGB
Fully Modular Keyboard
Hot-swap switch sockets are the notable feature of this keyboard. This feature allows you to plug in and out switches, making your DIY easier. Moreover, the keyboard is compatible with various 3-pin plate-mounted mechanical switches. With such construction, it is 100% suitable for beginners.
Minimalistic Design, No Branding
Its floating keycap design doesn't have any branding. As a result, it becomes the ultimate minimalist keyboard. At the same time, it comes with a standard keycap layout, allowing you to use an aftermarket keycap set without trouble.
16.8 million Color RGB Backlight
Want to customize the key color according to your desire? You can easily do it with this keyboard. It allows you to spice up your battle station as several light effects are used in this device. Changing the color settings is also a breeze from the keyboard or the manufacturer's software.
Thumbs Up
A standard ANSI layout offers more traditional typing
Built-in stand lets you change the angle for an ergonomic typing experience
Work with Windows, MAC, and keyboard supported consoled
LEDs a quite bright
Basic backlit control
Thumbs Down
Lacking software features
Why Should You Buy It?
The body is 100% aluminum, and the overall construction gives it a sturdy look. It generates a damn satisfying THOCK with every keystroke. Given the availability and price, this is a high-quality barebone you can buy.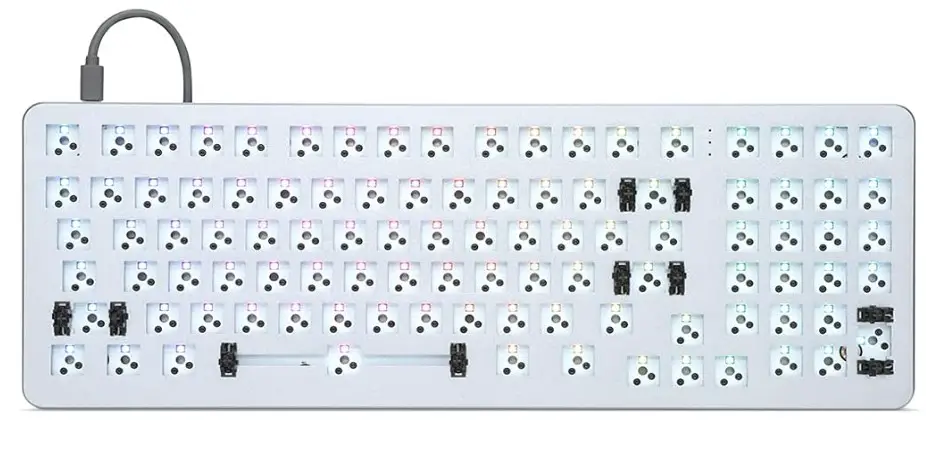 I am impressed with the DROP Shift Mechanical Keyboard's compact layout. This barebone keyboard becomes shorter compared to traditional full-sized keyboards, permitting you to store other gear in the free space of your desk. Strong build, hot-swappable board, LED indicators, etc., are other remarkable features.
Technical Specification
Compatible Devices: PC
Connectivity Technology: USB-C
Special Feature: Lighting
Number of Keys: 99
Keyboard Backlighting: RGB
Optimized Per-Key Lighting
Millions of color choices are available for every key, letting you design your specific tone. Program the lighting to cycle throughout the keyboard or select a 2-tone look as per your requirements. Moreover, it features an incorporated translucent LED diffuser, minimizing hot spots when used.
Hefty Aluminum Frame
This keyboard is renowned among gamers for its toughness. Also, the surface finish of high-quality and low-profile frames complements your desktop. Again, the hot-swappable PCB and built-in switch plate allow you to customize the design whenever you want.
No Flickering
Other competitors of this keyboard show flickering performance at a certain time. I experienced zero-flickering performance with this barebone keyboard when using it for a few days. Its LED operates at 100 Hz frequency, preventing any visible flicker.
EGB LED indicators are also included in the Scroll Lock, Capslock, and Numlock; more importantly, these are also customizable at any time.
Thumbs Up
Provides enough free space on the desk with a compact design
Made with premium materials
You can use Plate-mounted Cherry style switches and stabilizers
Swapping the switches can be done within a second
It allows you to customize the backlit as per your needs
Thumbs Down
Why Should You Buy This?
Overall, the SHIFT is damn well-built. Solid aluminum construction and Halo true keys are excellent to touch. RGB lights have many built-in functions, letting you choose based on your preferences.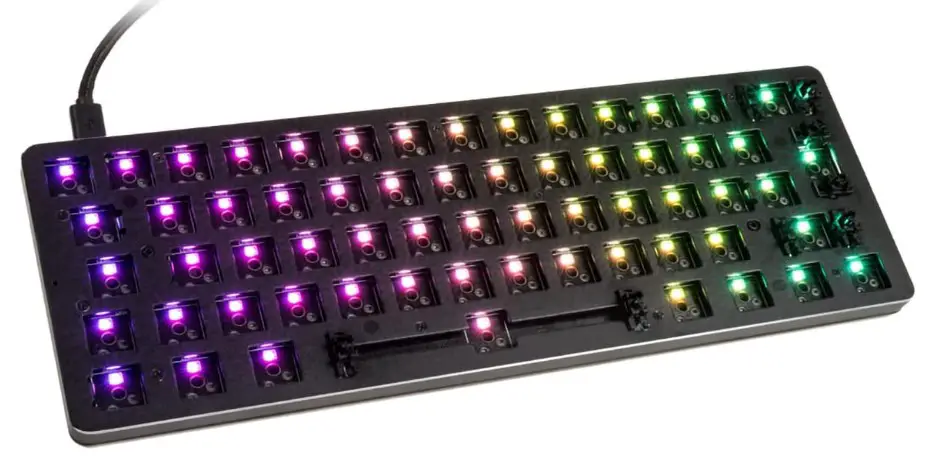 The Glorious GMMK Barebone is a satisfying and versatile keyboard, having excellent construction. It's minimalist design and thick construction win the heart of many gamers. Other remarkable features, such as USB-C connectivity, adjustable feet, etc., give you a new typing experience.  
Technical Specifications
Compatible Devices: Gaming Console
Keyboard Description: Gaming
Special Feature: Backlit
OS: Linux
Number of Keys: 62
Keyboard Backlighting: RGB
Compact Modular Keyboard
Buying a second keyboard is unnecessary when you have this one. It allows you to use different switches in different situations as you desire. Keycaps and switches can be replaced at will without soldering. Moreover, its compact size saves 60% of the space on a desk. As a result, you can keep other components on your desk without trouble.
Easy Replacement of the Buttons
The package includes a switch puller, allowing you to completely replace all 62 buttons in no more than 20 minutes. Moreover, the keyboard is damn high-quality, processed with the black anodized aluminum chic bezel. Such construction gives the keyboard a classy appearance. Simultaneously, it ensures excellent stability when playing your favorite game.
Different RGB Lighting
The RGB lighting comes with 18 effects. So, you can change them according to your mood. These effects can easily be activated through key combinations. If you want to use an individually configured effect later, save it in a profile. Typing with this keyboard gives a natural feel every time.
Thumbs Up
Very solidly build
Includes 180cm long cable with textile cover
Both a keycap and a switch puller are enclosed
Easy to exchange the keycaps
Effortless to customize as per the user's preference
Thumbs Down
The software is a bit lacking in terms of customization
Why Should You Buy It?
Are you looking for a hot swap keyboard having great build quality? You must give it a try. More importantly, you won't have to break the bank, and building from scratch is unnecessary as it lets you customize the layout easily.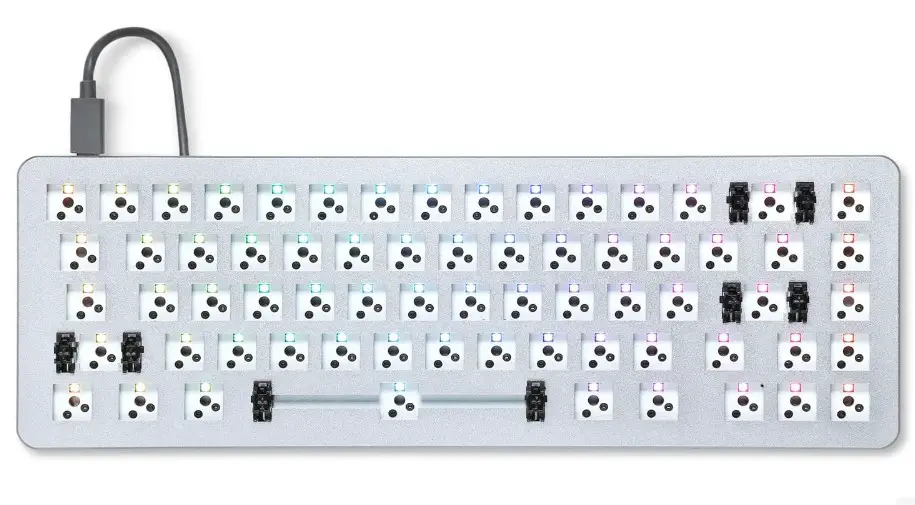 I have been using many mechanical keyboards for the last few years. No other units provide me with the same performance as the DROP ALT Mechanical Keyboard offers. It has a complete set of numerals and arrows and doesn't waste space. The full compact design comes with 67 keys while built with aluminum, giving it a rock-solid look.
Technical Specifications
Compatible Devices: PC
Connectivity Technology: USB, USB-C
Special Feature: Lighting
Operating System: Windows NT, DOS, Windows 2000, Linux, Windows Vista, Windows XP, Windows ME, Windows 8, Windows 7, MacOS, Windows 95, Windows 10, Windows 98
Number of Keys: 67
Keyboard Backlighting Color Support: RGB
Hot-Swappable Switch Functionality
I am impressed with its hot-swappable switch functionality. Customizing the ALT is a breeze as it consists of hot-swappable switch sockets. With the help of this feature, you can swap switches within a few seconds. More importantly, soldering is not required.
A Solid Build
It has a modern look with a solid build. Around the keyboard, it has a LED strip, giving it a nice look. If you don't prefer it, turn it off, and the keys will remain illuminated. Even vice versa is also possible. I was unaware of this feature when buying this ALT keyboard. So, such a feature gives me a pleasant surprise.
A Compact Layout
This Drop Alt keyboard has a separation between the alt/function keys and arrow keys. While I barely found such a design in other barebone keyboards. For this design, you won't have to look at the keyboard when pressing the arrow keys.
Thumbs Up
Easy to program your keys and LED colors with the Drop software
Modern look barebone keyboard
Compatible with a wide range of operating systems
Helps you type accurately when you don't look at the keyboard
Solid construction
Thumbs Down
Unavailability of function keys
Why Should You Buy It?
This keyboard is excellent for gaming. The solid frame feels like it will last forever. Also, the keys to take off make cleaning hassle-free.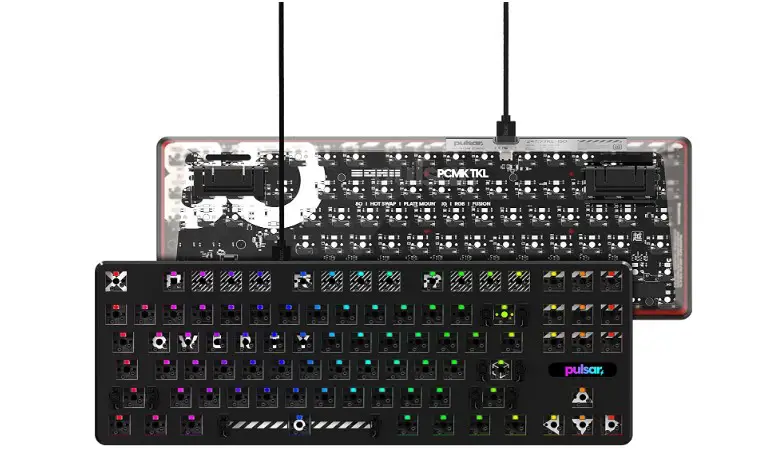 The Pulsar Barebone Keyboard is built to last with aluminum. This is a great entry-level barebone keyboard with several powerful features. It is damn effortless to build. Also, you can customize it in whatever way you want, from the LED effect to key assignment to macros.
Technical Specifications
Compatible Devices: Keyboard
Connectivity Technology: USB-C
Special Feature: Backlit
Number of Keys: 87
Material: Aluminum
Hot-swappable Switches
Swap with MX-style mechanical switches. Compatible with any 3 or 5-pin MX-style mechanical switches of Gateron, Cherry, Kailh, Holly Panda, etc. When placing the hot swap sockets, remember to apply pressure on the top and bottom.
Acoustic Perfection
Injection molded high-density polymer dampers will eliminate vibration and noise and provide quieter and cleaner acoustics of typing sound. Moreover, you can add rubber O-rings to make the keyboard silent with the full force of a button. So you will barely hear unwanted noise. The THOCK sound of the keyboard will be more pleasant than ever.
16.8M RGB LED
Every key is designed with a customizable full-color RGB LED. The rainbow backlighting allows you to enjoy virtually unlimited and dynamic lighting adjustability. Moreover, 16.8 million customizable colors generate endless color combinations for every mood and environment – making your gaming experience memorable.
Thumbs Up
Rattle-free stabilizers
Perfect RGB lighting
Fantastic cable and easy setup
Lightweight keyboard great for travel
Excellent tray mounted dampened board
Thumbs Down
Why Should You Buy It?
Build quality is good. The reliability is amazing in providing you with an overall extremely stable experience. Overall, the plastic and aluminum construction and the see-through feature are quite nice aesthetically.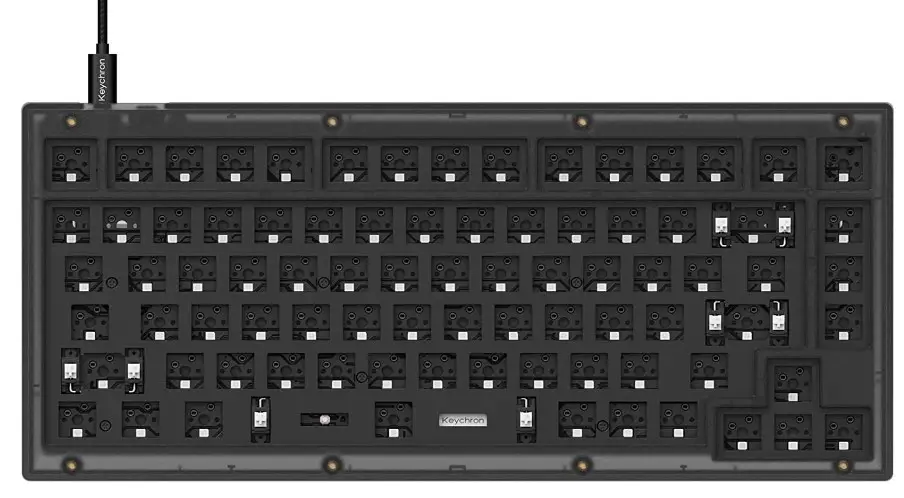 The Keychron Mechanical Keyboard Barebone version features VIA/QMK support, making it a completely customizable device. Its VIA software permits anyone to master macro commands or keyboard keys effortlessly. Also, the hardware and software can be customized endlessly because the V1 is engineered to assemble without trouble.
Technical Specifications
Compatible Devices: Laptop, PC, Mac
Connectivity Technology: USB-C
Keyboard Description: Gaming
Special Feature: QMK/VIA, Fully Customizable, Hot-swappable, RGB, Wired
Number of Keys: 82
Keyboard Backlighting: RGB
Hot Swappable Sockets
The hot-swappable sockets support both 3-pin and 5-pin MX mechanical switches. As a result, customizing your favorite switches becomes a breeze while soldering is not required. More importantly, every component, like switches, keycaps, plates, cases, gaskets, etc., can be assembled easily.
South-facing RGB Lighting
The keyboard backlight adequately illuminates from the typist's angle. Thus, you will never have difficulty typing under low light conditions. Its south-facing RGB is interference-free after installing Cherry-profile alternative keycaps. Moreover, this keyboard is not as heavy as other customized boards; you will love how the keys sound and feel.
All New Screw-in PCB Stabilizers
Making changes and upgrades is fully effortless with this unit. Stability is increased with its screw-in design. In addition, the keyboard is less wobbly and incredibly steady due to its precise craftsmanship. At the same time, it looks sturdy. Typing experience of the big keys is smooth and convenient. You will love knowing it supports 3rd-party stabilizers such as Durock and Cherry.
Thumbs Up
Easy disassembling and assembling
Sound absorbing foam
Sturdy top and bottom case
1000 Hz polling rate
V1 for ultra typing comfort
Thumbs Down
The spacebar is not balanced
Why Should You Buy It?
If you are looking for an extremely premium keyboard, try this one. Customizing your keyboard with keycaps and switches according to your preference will be easy when you have this keyboard on your desk.

Want to enhance your typing comfort? Buy the Keychrom Q2 Mechanical Barebone Version and get a new typing experience. It is a fully customizable barebone keyboard with having 65% compact layout, providing limited possibilities for a productive workflow. The keyboard is compatible with Linux, Mac, and Windows operating systems.
Technical Specifications
Compatible Devices: PC
Connectivity Technology: Wired
Operating System: Linux, Mac, Windows
Material: Aluminum
Keyboard Description: Mechanical
Hot Swappable with MX Switches
I am impressed with its hot-swappable feature as it is compatible with almost all the MX styles mechanical switches of 3-pin and 5-pin. More importantly, soldering is entirely unnecessary. You can also easily access all the important function keys and multimedia with its 65% compact layout.  
Full Aluminum Frame
6063 aluminum is used in manufacturing this keyboard. The unit is a piece of art, undergoing multiple checking processes like sandblasted, CNC machined, anodized, polished, etc., for reliable performance. The case is solid and heavy feeling. Moreover, the included cable is pretty long, allowing you to work with the keyboard conveniently.
Double-Gasket Design
Are you disturbed by your current keyboard's noise? Overall, typing sound is improved in this keyboard of its double-gasket design. The sound noise and resonance get reduced significantly as case and sound-absorbing foam are added inside. Reassembling each keyboard is pretty effortless according to your choices.
Thumbs Up
South-facing RGB
Big keys feature PCB-mounted screw-in stabilizer
Reliable USB Type-C wired connectivity
Smaller desk footprint
Outstanding build quality
Thumbs Down
Pretty stiff cable but relaxes with time
Why Should You Buy It?
This will be an ideal choice if you are trying to get into the custom keyboard hobby. The full aluminum frame gives it a sturdy look. Besides, the factory lube is good, so lubing the stabs later is unnecessary. A great deal for the price.
The DROP High-profile Mechanical Keyboard is a game-changing unit for gamers. After assembling the keys, it looks like the original CTRL, which features a tall CNC-aluminum case covering the switches. Assembling and disassembling the keyboard can also be done within a few minutes as per your choice.
Technical Specifications
Compatible Devices: Laptop, PC
Connectivity Technology: USB, USB-C
Recommended Used for Product: Gaming
Special Feature: Lighting, Backlit
Number of Keys: 87
Keyboard Backlighting Color Support: RGB
Hot-swappable Switch Sockets
Want to customize your keyboard switches? This keyboard will let you do so conveniently. Thanks to its hot-swappable switch sockets, letting the switch within a few seconds, even soldering is not needed. This CTRL high-profile keyboard is compatible with stabilizers and plate-mounted cherry-style switches.
Optimized Pre-key Lighting
The backlighting is optimized so that maximum lights can pass through the keycaps. Also, millions of lighting options are available for every single key. If you prefer the lighting to cycle via the whole spectrum, you can do it also. Moreover, if a two-toned setup is your preference, this keyboard will cover you.
Thicker & Heavier Frame
Aluminum is used to build the keyboard, making it a tough keyboard. Also, such a construction lets it hold a quality surface finish. The weight is more than the original CTRL; you won't face trouble carrying them wherever you want.
Thumbs Up
Fully programmable via QMK
Dual USB-C connectors
Features Drop QMK firmware configurator
Built-in switch plate and hot-swappable switches
High-profile design
Thumbs Down
Typing on the stock case is pingy
Why Should You Buy It?
I found it to be a solid keyboard. I mostly liked the RGB LEDs, Dual USB ports, and the hot swap switch sockets. The matte finish and overall performance are also satisfying.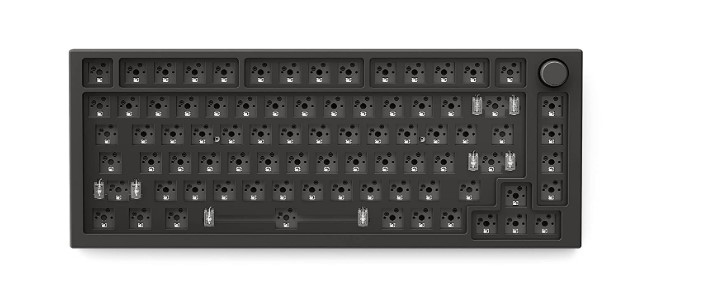 The Glorious Modular Mechanical Keyboard PRO is a luxurious unit suitable for custom keyboard build. A fully modular, 16.8M per-key RGB, 83 ley layout, etc., are the notable features of this keyboard. This unit is a showpiece of excellent craftsmanship and design.
Technical Specifications
Compatible Devices: PC
Connectivity Technology: USB
Keyboard Description: Mechanical
Special Feature: Hotkeys and Media Keys
Number of Keys: 83
Keyboard Backlighting Color Support: RGB
High-profile Design
The build quality of the keyboard is unbeatable. Engineered from aluminum that is promised to give long-term service. The bezel is rounded, and you will see the engraved Glorious logo on the back, giving an elegant look. Two foam dampeners are also available inside the case, preventing unwanted sound noise.
Gasket-mounted Plate Structure
In order to dampen the keystrokes and reduce vibrations, it is designed with a gasket mount. Such a design prevents the keys from contacting the case. As a result, a quieter and more cushioned clamp is guaranteed.
Hot-swappable South-facing PCB
The most interesting feature is the hot-swappable south-facing PCB. Thus, it supports both plate-mounted and PCB-mounted switches. Additionally, screw-in and clip-in tabs are also supported by this keyboard, giving you convenience when using the keyboard.
Thumbs Up
An ultra-premium 75% layout
Provides haptic typing experience
Compatible with QMK
Media control knob
Factory pre-lubed with G-lube
Thumbs Down
Tightly compressed gasket
Why Should You Buy It?
Professionals, gamers, and enthusiasts appreciated its performance and quality. It is thoughtfully crafted to give you a new, pristine acoustic typing experience. The unit is sturdy and nearly impossible to make sound bad.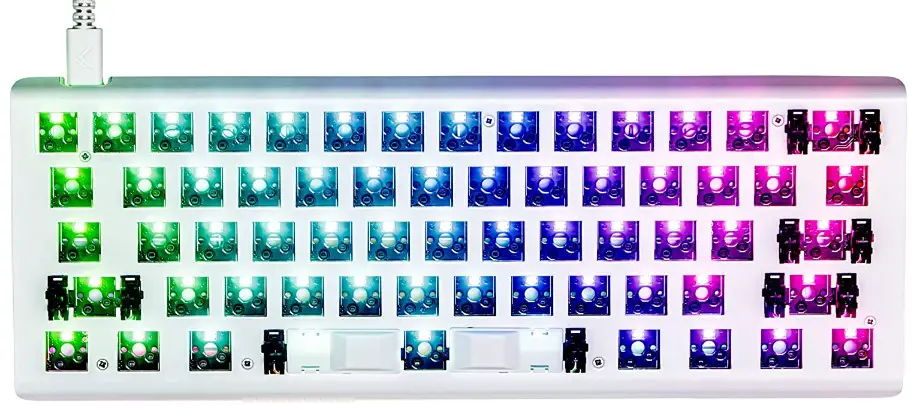 Wondering to build your ultimate eSports Keyboard? Buy the KINESIS Gaming Keyboard Barebones Kit and make your dream come true. It has a layout of 63 keys. In addition, it comes with RGB backlighting, hot-swappable PCB, etc.
Technical Specifications
Compatible Devices: PC, Mac
Connectivity Technology: USB-C
Keyboard Description: Gaming
OS: Linux, Mac OS X 10.12 Sierra, Windows 10
Number of Keys: 63
Keyboard Backlighting Color Support: RGB
One Handed Gameplay
This keyboard will give you incredible one-handed gameplay by letting you achieve ergonomic tenting with the help of the BIG FEET available on the side of it. The strain on your hands will be reduced since tenting effectively increases circulation.
Optional Split Spacebar
One of the significant features of this keyboard is the optional split space bar. It is designed with 3 space bars separately, allowing you to install more space bars to let you complete additional actions on your thumbs. Another worth-mentioning feature is the hot-swap technology. This feature permits the user to remove and replace key switches effortlessly using the included tool.
Front/Back Tilting
It features small feet on either side of the keyboard for front and back tilting. You will experience a more ergonomic feel by popping out the front feet. Conventional typing is promoted when you pop out the back feet.
Thumbs Up
Ultra-fast Kailh mechanical switches
Additional space bars for extra thumb actions
Ergonomic tenting and tilting options
Dual-zone RGB lighting
Hot-swap technology for customized key performance
Thumbs Down
Weak solder on hot-swap sockets
Why Should You Buy It?
This keyboard is a fantastic choice for gaming. You will find the triple spacebar feature particularly handy while accessing multiple functionalities. Overall good build quality, attractive look, ergonomic tenting, and tilting options let it stand out among other barebone keyboards.
Glorious GMMK TKL Barebones Mechanical Keyboard
How to Choose the Best Barebone Keyboard – Buying Guide
When buying a barebone keyboard, choosing the one that meets your requirements is important. Here are a few considerations to keep in mind during purchase.
Layout/Size
Size is an important factor for a barebone keyboard. If the size is smaller than your needs, you will feel uncomfortable while using it.
Generally, a standard full-size barebone keyboard consists of 104-108 keys. They include all number and function keys.
If you want a smaller size, you can drop to a 90% compact version from the full size. However, finding keycaps are challenging in compact or smaller sizes.
Construction
Higher build quality is one of the prime features of barebone keyboards. They are well-built compared to pre-assembled keyboards. But it is different for all barebone keyboards.
Polycarbonate and aluminum are the most commonly used barebone keyboards. Make sure your selected unit feels sturdy and robust.
It would always be best to buy one from a reputed manufacturer. Research different models to know the construction materials. Read the reviews before buying.
Hot-swappable
Avoid buying a barebone keyboard that doesn't come with a hot-swappable feature. This feature is beneficial, especially when switching the keyboard switches. You will be able to install and customize the keys according to your needs with the help of this feature.
However, you can customize the layout per your requirement with barebone keyboards that lack hot-swappable features. You will require a soldering tool to complete the customization.
Connectivity Options
Barebone keyboards can be wired and wireless. Which one do you prefer?
Usually, wired options offer fewer problems. On the other hand, wireless barebone keyboards such as IR technology, Bluetooth, and radiofrequency deliver good connectivity.
Remember, the portability of your barebone keyboard greatly depends on the connectivity option.
Software
The software is needed to monitor your barebone keyboard and remap the keys. The software type varies from manufacturer to manufacturer.
One of the popular open-source software is QMK. You will learn the procedure to use the software in the instruction manual for the keyboard.
VIA is another common software based on QMK. More control and real-time keyboard update are the best features of this software.
FAQ
What is a barebone keyboard?
A barebone keyboard is a mechanical keyboard that comes without keycaps or switches. Although they are necessary for every keyboard, you will have to install them by buying them separately. As a result, they are cost-effective and let the user build the keyboard the way they prefer. The main focus of barebone keyboards is to customize the build.
Is a barebone keyboard good for gaming?
Many gamers prefer barebone keyboards over others because they can type faster when playing games. Since extra switches or attachments are unavailable, there is less chance of making a mistake when pressing keys. Moreover, barebone keyboard switches generate THICK sound, preventing unexpected errors while concentrating on your favorite games.
Do GMMK barebones come with stabilizers?
Pre-lubed stabilizers are one of the exceptional features of GMMK barebones. Compact, TKL and GMMK full-size keyboards come with plate-mounted stabs. On the other hand, screw-in and PCB-mounted stabs are used in GMMK Pro.
How do I know which barebone keyboard is ideal for me?
Before buying a barebone keyboard, it is crucial to understand its purpose. Some look for a versatile and durable option, while others prefer backlight and programmable keys. Ultimately, the best way is to do some research which will surely lead you to the ideal barebone keyboard.
Is a barebones keyboard better than a full-sized keyboard?
Since preferences vary from customer to customer, it isn't easy to say. Each individual has different requirements regarding typing experiences. So, the answer to whether barebones keyboards are better than full-sized ones comes down to personal choices.
Let's Close It Off & Top Pick
Build your personal keyboard by buying the best barebone keyboard to take your typing experience to a new level. These keyboards are easy to use, cheaper, and simpler than pre-built keyboard kits.
If you are still deciding which model to choose, I recommend purchasing the Glorious GMMK Barebone Keyboard. It is well-constructed, and the feet option is designed at a comfortable height. Built-in foam reduces annoying high-pitched sound and provides much room to tape mod. Hot-swappable switches, RGB LED backlit; the aluminum frame gives the keyboard a classy appearance.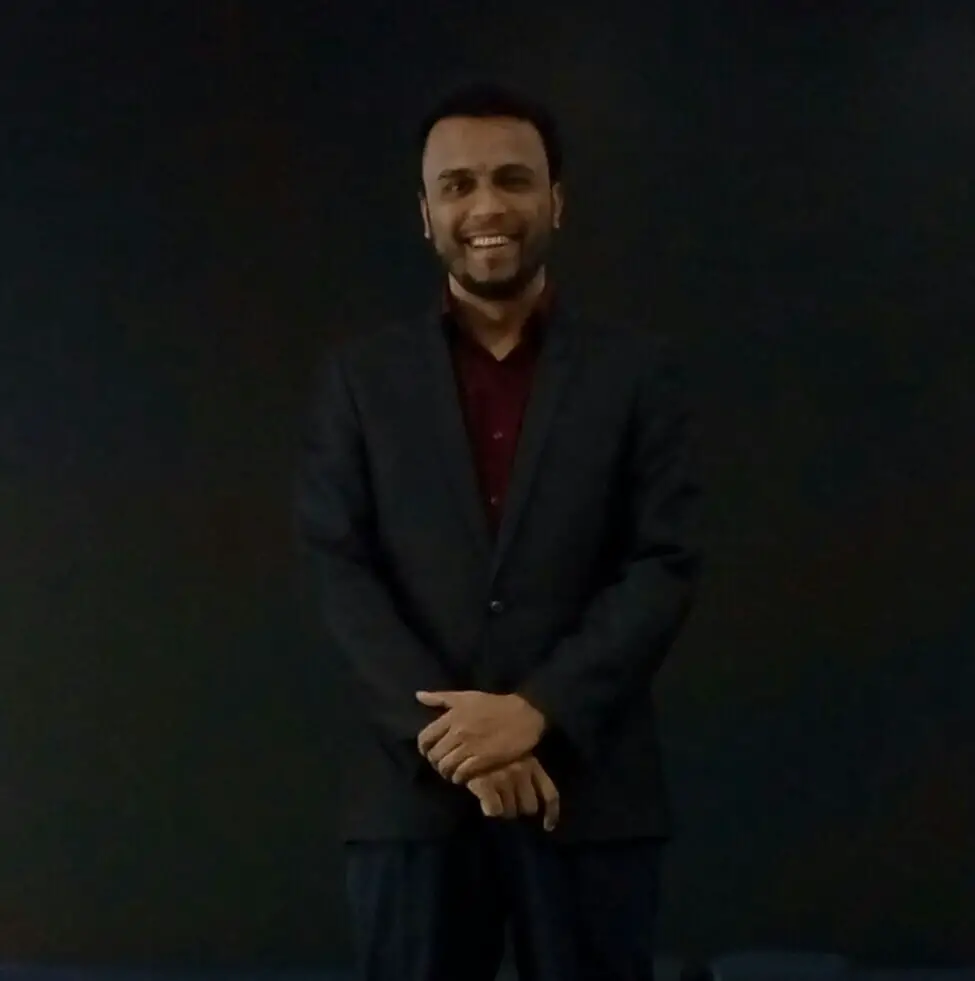 I am a regular user of computer keyboards. For using keyboard face different kinds of problems and also solve it very easily. I love sharing knowledge about keyboards.